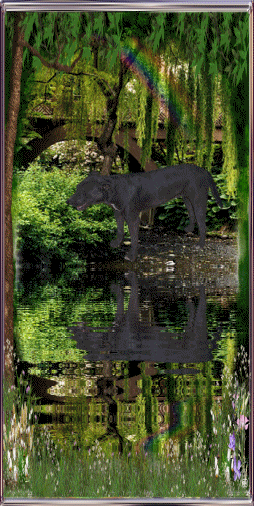 God looked around His garden
And He found an empty place.
And then He looked down
upon the earth,
And saw your tired face.
He put His arms around you,
And lifted you to rest.
God's garden must be beautiful,
He always takes the best.
He knew that you were suffering,
He knew you were in pain,
He knew that you would never
Get well on earth again.
He saw the road was getting rough,
And the hills were hard to climb,
So He closed your weary eyelids,
And whispered "Peace be thine."
It broke our hearts to lose you.
But you didn't go alone,
For part of us went with you,
The day God called you home.
~author unknown~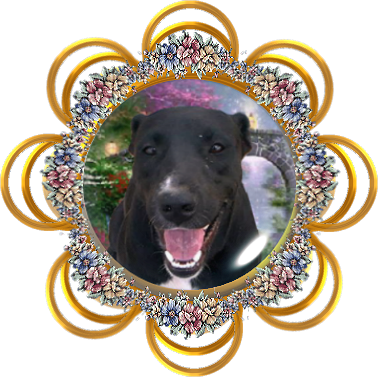 "This place is sadness" the small pup cried,
"I ask only someone who is kind,
Someone who will take time to know me,
And see I've a heart, soul, and mind."
Strong hands lifted the pup and claimed her,
Said, "You're coming home with me.
You'll have space and freedom, all you need.
You have only yourself to be."
Time passed and the pup grew in their hearts,
Now safe in her joy and her love.
"This place is gladness," the small pup smiled,
Speaking to those up above.
But time pushes forward, relentlessly,
And one day life becomes a chore.
And love's only choice is to set them free
To travel on to heaven's shore
"This is almost perfection" the small pup cried,
"But I miss those I love who now cry.
They knew I was ready, so they set me free,
Though I know their pain does ask 'why?'".
"Can I tell them that I'll never really go?
That I watch o'er them from above?
For I only ever asked kindness,
But was given a great gift called love."
© Candace
4/22/2011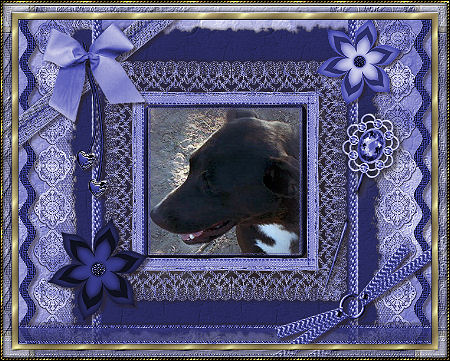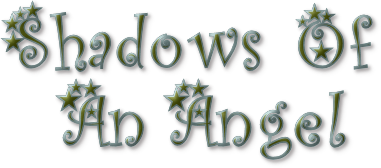 Shadows of an Angel watching over me
Gentle warmth always near and always dear
Shadows all around, gentle touches of angel wings
I hear you and see you in my heart
The glowing oranges of a sunrise behind you
Showing me that you are happy and healthy
Running and chasing the waves of love
Flowing gently under Rainbow Bridge
Filled with the healing power of a wish
For peace of heart for you my Angel
My tears flew when I had to
say good bye for now dear one
I knew was time for you to go
home, you have earned your rest
Reward for a loyal and loving
heart, always standing by
Shadows of a dream, shadows
of an Angel Girl glowing
Joy in memories of the little
puppy with the glowing brown eyes
Who became my closet friend
in a heart beat, in a whisper
When that day of reunion comes
my tears will flow with happiness
Silver tears will fall apon your silky fur
My arms and heart will
be filled with love ever lasting
We will cross Rainbow Bridge
together never to be parted
Until that day I feel the
shadows of an angel forever near
©J.C. Stewart~BarTendersBluesWolf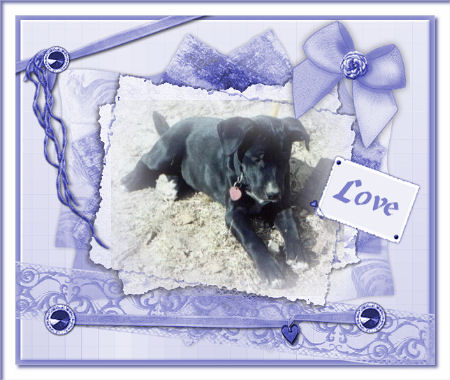 Ebbing tides of sorrow break,
Over those who will seek but ease.
The hearts and souls and minds that ache,
Waiting for the wind called peace.
The love that came from up above,
Was sent with them to us to teach.
Mission complete, took back his loves,
Now we wait for the wind of peace.
They brought His word to us to learn,
Now they fly on wings of iridescent hue,
A silverwolf was sent to me,
Who now flies with wings of blue.
So learn you well the word of love,
Even tho when gone you feel no ease.
When he takes them back above,
And leaves you searching
for the wind called peace.
Written by:
LoboWolf aka
Don Dade
10/02/2003

Light a candle in Chances memory, for a sick, abused, or special needs furbaby, or perhaps just someone who needs a prayer and a candle lit.