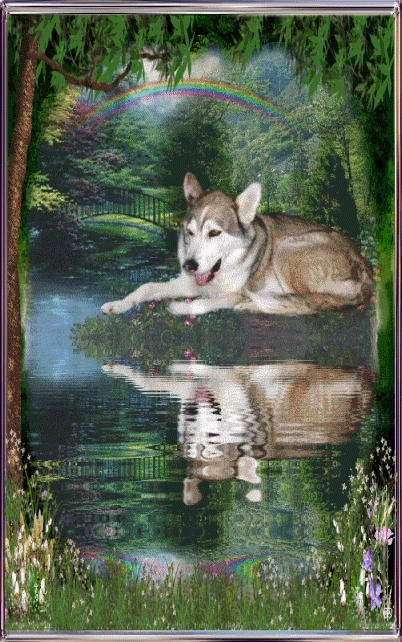 Nicknames: kar-kar
Quick Bio:-Wolf, RedWolf & TimberWolf
Likes:When everyone is home
Pet-Peeves:When no one is home , not getting attention
Favorite Toy:Lizards , her tail , anything that moves (bugs,flys,etc)
her house of stuffed toys
Favorite Food:cookies
Favorite Walk:through neighborhood ( on leash )
Best Tricks:catching lizards , catching balls , getting whatever she wants


Friend at work had mother in law who had a timber wolf and a red wolf,
kept breeding them
( irresponsible) , drove to Oakland to see pups ,
felt bad for their environment and took
Sakari home. Anyone who thinks wolfs or
wolf dogs are mean are very un-educated.
Sakari and other wolf/wolf dogs would make the worst guard dogs.
They are very loving
and do need a "pack" , that is now me , my wife,
and our 2 other dogs. She is very loving
and NEVER mean at all. Very timid to strangers ,
and as all wolf/wolf dogs ,will hide behind
corners , or cross street just to stay away.
Smarter than dogs , she opens doors herself ,
she even lets the dogs out when they need to go potty.

When you feel a gentle breeze
Caress you when you sigh,
It's a hug sent from Heaven
From a loved one way up high.
If a soft and tender raindrop
Lands upon your nose,
It's just a little angel's kiss
As fragile as a rose.
When you hear a song that fills you
With a feeling of sweet love,
It's a hug sent down from Heaven
From someone SPECIAL up above.
If you wake up in the morning
To a bluebird's chirping song.
It's music sent from Heaven,
to cheer you all day long.
If tiny little snowflakes
Land upon your face,
It's a whisper sent from Heaven
All trimmed with angel lace.
So let your heart be joyful
If you're lonely, my dear friend,
Hugs that are sent from Heaven
A broken heart will mend!
author unknown
Rob freely gives his time to make videos for hurting hearts and we will put them on pages
for those who would like them. Rob does this for free.
please email him here if you would like a video made of a beloved animal companion
rebel52@sbcglobal.net.

Light a candle in memory of all those hurt or lost, for a sick, abused, or special needs furbaby, or perhaps just someone who needs a prayer and a candle lit.