Shadow was border collie and chow mix so she was very smart.
She seemed to have a sense of humor for fun pranks
we would put her toys away and she would take them right back
out and look at , you with that HA HA look
on her face. When we were outside with a ball
or, Frisbee she would give anyone around
a turn to throw it for her.She didn't like to be outside
by her self even if just for a couple minutes.
As she got older she was just as happy
to just be out back with us and enjoy the view.
She was daddy's girl for the fun things but mommy's
girl for everything else. Her passing has left a very
big void here. She was with us for eleven
and a half years. She will always be part of me.
I am in the memories that dance upon your soul
Bringing back to you the love that came from
up above. A love that has never left you.
Gentle raindrops falling upon your face
bringing healing. My touch reaches out to
you as they gently flow.
I know are times you look for me, in the
places we once walked side by side.
I hear the sighs coming from your heart
when you don't see me. Just because
you don't see me doesn't mean I am
not there. Because there is not a step that
you take that I don't take it with you.
There are times you listen for my voice
in the winds. Listen carefully and you will hear
me whisper, I am in the love that came
from up above. To warm your heart.
Our forms may change, but the love
we share remains. Growing stronger
with each new day. Glowing with the beauty
of a sunrise.
Remember for me that love is given
in a heart beat and is
always.
©J.C. Stewart
BarTendersBluesWolf
2007

I look into eyes time has gentled with love
and I feel a heart I want always to be near
I hear the winds whisper of times yet to be
and I listen to a voice I want always to hear

but I feel too a bond that will never be broken
and I hear the wind whisper softly it will be
even when we are apart we are connected still
by a love that will stand the test of all eternity

though you have traveled on and I yet remain
I still feel your touch on my heart and my soul
and I feel your love soft and warm around me
and I know that what we have will never die

(c) Candace 2/1/06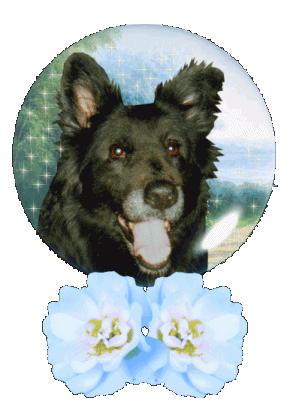 When the waves of Sorrow lap at your feet,
And they work up to your heart.
Silver hued tears run down your cheeks,
And naught but sadness does impart.
Think of this place called Rainbow's Bridge,
And the wondrous glory there.
A silent shadow looks down from a ridge,
And stands on edge your hair.
What is this wondrous graceful sound I hear,
That whispers to me on the breeze?
It is a sound that whispers peace,
And fills my heart with ease.
Is this my love that comes to me,
And whispers on the breeze?
It seems to say feel not guilt,
Listen to my whispers please.
Daddy, mommy, I Love You,
Forever and one day.
In your heart feel not blue,
Just listen to what I say.
I speak to you with sounds of love,
From high upon this ridge.
I wait for you to come above,
I'm happy at Rainbow Bridge.
Written by LoboWolf aka Don Dade
10/03.2003