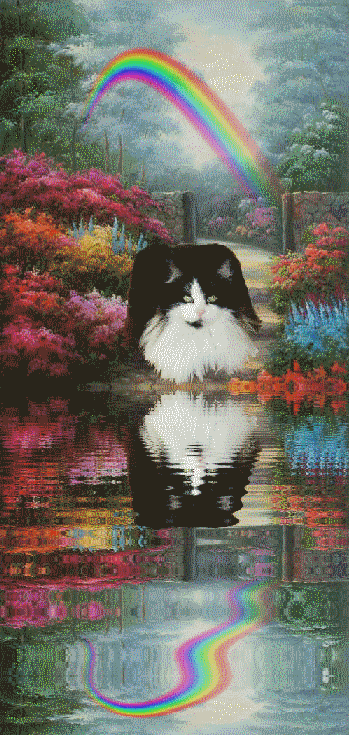 I found Puff one cold November morning
under our Fir tree..just sitting there and
looking straight at me. I ran outside
and she came running to me.
We connected immediately. She
was about 1-3 yrs.old, long haired,
curled right out of her ears. I
picked her up and realized how thin
she was..I took her in and our souls
truly became one. I had Puff for
14 years..she was with me always.
She loved to cuddle with me
anytime I would call her. And how
she loved to play ball with me...in
our own catkid and mom way.
She loved to have the wind blow in
her face and enjoyed sitting in the
windows when we had storms. She
loved to have her picture taken
anytime. Puff had bad teeth when
she came to me...eventually she
had to have most of them taken
out. But she was fine without
them. But about 5-6 yrs later she began to
lose weight...slowly, so slowly, and I
did not notice much because of her
long hair...well last winter she
stopped eating the day after
Thanksgiving....and I had to take her to the
vet and was told that she had
hyperthyroidism, a heart murmur and cancer
in her stomach. I lost her within
3 weeks after that visit. She
never acted sick, ever. She just would not
eat...She went from 8 lbs. to less
than 4 in that time. So I made the
hardest decision ever. I let her go.
At times I can feel her near. She
followed me everywhere. She took
a part of my heart with her,,but she
left her pure,sweet soul. I love her so.
Well that is my story about Puff...I have
wonderful memories of her...playing,
watching birds, coming up to me to get
brushed. And just loved to lay next to me.

When you look into the summer
sky I am there. When you look into
the eyes of a true friend I am there.
When you hear a song that touches
your heart it is I. When you feel the
sun on your face it is a millon kisses
from me. When someone calls you
friend it is me saying those words to you.
Look into the night sky and see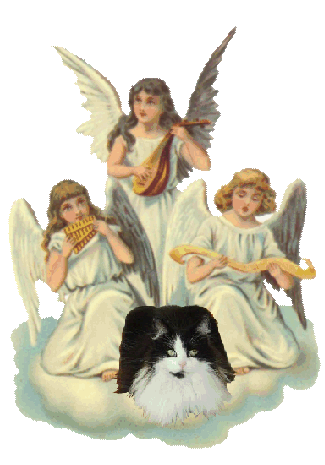 the stars twinkle back at you it is a
message from me saying find joy, I
want you to be happy and find laughter
in your life. When you give to others
you are giving to me and I am there.
Let other's touch your heart because
I am reaching out to you through them.
When you let someone in you will
see the joy of love and be forever
with me. Love never ends.
Here I am
ŠJ.C. Stewart~BarTendersBluesWolf~March 20, 2005
Music~*~Barbara Streisand~*~Evergreen