I have engraved in my heart the first time I met you.
Our souls whispered to each other," You are mine."
We traveled on a journey written in the stars long before we were born.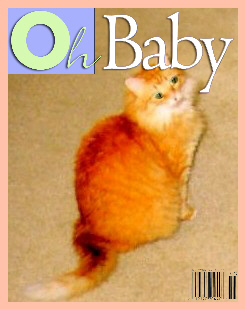 Thoughts keep drifting back to me of that day many years ago.
I was starting a new life in a new home.
Everything seemed so strange to me.
Then one night you were put into my hands, a little furry ball with big eyes the colour of spring.
We sat and gazed into each other's eyes
and in a heartbeat a bond was formed.
I had found my soul mate, my buddy.
I watched you grow from this little kitten into a regal king.
How many people can say they had a vegetarian kitty who would run at the sound of frozen peas hitting a bowl as if a can opener were opening the best tin of cat food.
Every year you got a fresh catnip plant.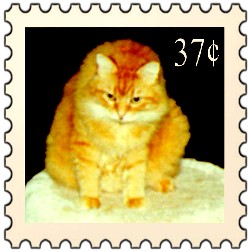 You would try to eat the whole plant.
I can picture you now my furry orange man running through house with a cherry hanging out of your mouth.
This is just part of our journey of 22 years,
but I remember each moment each loving glance.
I even remembered how you cheated when we played tag.
Each moment is engraved on my heart,
just as the first time I looked into your eyes and was whole.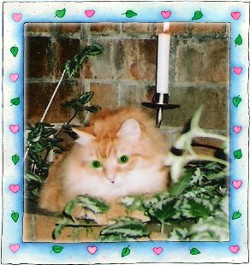 Muffin each night before I rest you are the one in my heart and I see you by my side.
When I wake you are the first face I see.
Until that day of reunion I send you my heart
in the colours of the rainbow.
Until we touch again,
Your Mom
©~*~J.C. Stewart~*~BarTendersBluesWolf~*~
It happened the first time I saw your precious face .
I knew we'd be together throughout time and space.
All it took was one look, a brief momentary glance.
And I knew in my heart,that it was time for our dance.
I held you in my arms and looked deeply in your eyes.
I felt your fur so soft, and heard your little sighs.
It happened so quickly, that I was taken by shock
But I knew in that instant that our hearts would lock.
You were my special friend, my one and only love.
I know that you were sent by the angels up above.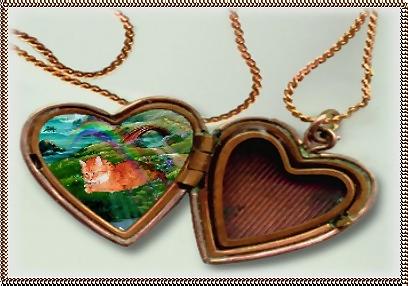 As we traveled through our lives, you were always by my side.
I hoped you'd stay forever, but as time flew by I cried.
I knew all the while, we would have to part one day.
I prayed I could stop time so with me you'd always stay.
The hot days of August came, and somehow in my heart I knew.
The angels were coming to take you, my loyal heart so true.
I held your paw as you left me. Your soul was a glowing orange light.
I gave to you a piece of my heart, and cried when I saw you take flight.
The angels cried sweet tears as they carried you above.
They knew that they were taking my precious forever love.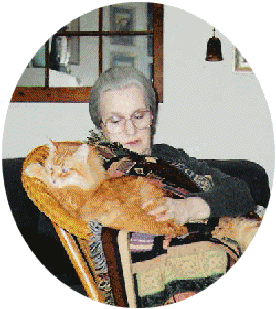 Silken fur soft as clouds beneath my touch.
Would there ever be one i could love so very much.
Eyes shining brightly with the twinkle of love deep inside.
Telling me my emotions I no longer needed to hide.
Giving love so freely never knowing how much it meant.
Sharing my every thought and mood with each moment spent.
Being there to snuggle soft and warm beside me every day.
Sharing each night with me, oh how i wanted you to stay.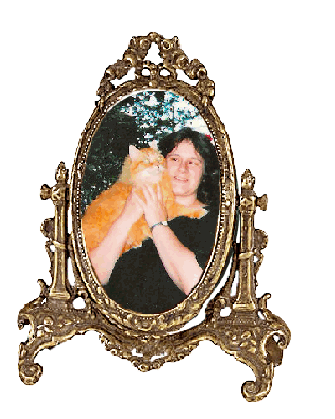 Love lasting beyond time never to come to an end.
My heart will remember you always my special friend.
You touched somethnig deep inside my very soul my angel boy.
And brought into my lonely life my grreatest joy.
Noone but you could have ever touched that place deep inside my heart.
Even tho you had to leave all to soon we are never really apart.
My aching arms long to hold you one more time.
Just to know that feeling when first I knew you were really mine.
As i sit alone and remember the times we shared as one.
I feel you near me as comforting as the morning sun.
Your heart telling mine we will be forever one when one day I will see.
The gates of rainbow bridge and you my angel waiting there for me.
© Kathy Hayes aka AurichWolf aka Katie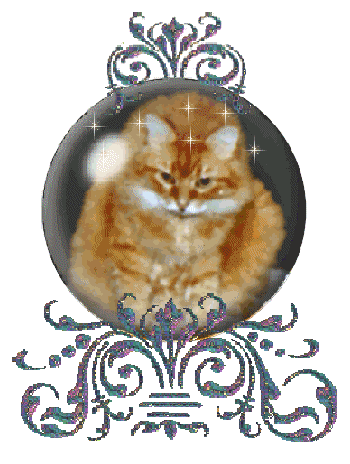 In the twilight mists- in the land of dreams
Where our hearts dance on stardust floors
And we play hide and seek among the stars
The sweetest song in the night is a soft purr

In the twilight land of dreams when I visit
Paw steps unseen but felt upon your bed
As I walk to and settle into my familiar place
And I purr you a lullaby to ease your heart

In the twilight of the day in your dreams
But also on the golden beams of the sun
And I will never be farther that your heart
Our hearts entwined by a golden cord always.

© Candace 6/17/06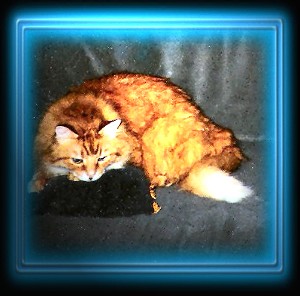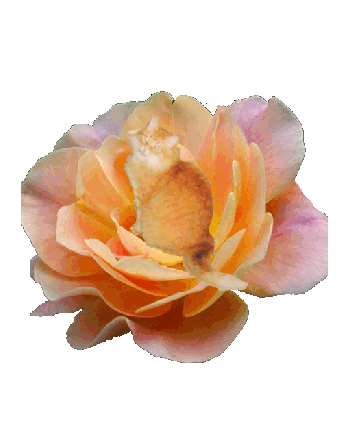 Sunlight shining on golden angel wings.
In the morning mist of a lovely meadow and song bird sings.
His sweetest song that reminds my heart of you.
Tear drops glisten on my face like the morning dew.
Watching sunlight breaking through the morning mist.
Gentle whispers let me know I have been softly kissed.
Deep within I know the kisses come from my special golden one.
To bring me love with the rising of the sun.
Evening falls and in the twilight of the day.
Golden glimmers of time gone by softly sway.
Rest well my love,my heart is with yours for all eternity.
Let the peaceful night and my whispers comfort thee.
© Kathy Hayes aka AurichWolf aka Katie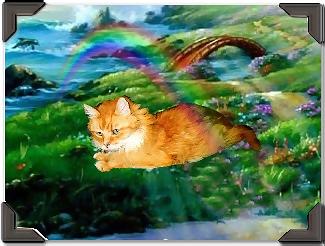 Fleeting shadows cross your face, I see pain etched quickly there.
You hide it well with the wall time helped erect.
As I watch gentle winds caress your hair,
while you sit in silent retrospect.
Fleeting shadows in the night betrayed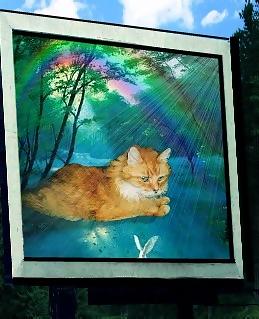 By the rays from the moon above.
Do you wonder just what might have been
If you had found a sooner love.
Do you wonder at the gentle love
That in your later years did spring
I wonder at the life you've had
As I see the hurt within.
I sense the years falling back
The blurry shadows cannot hide
What I see buried deep inside
Through the windows of your eyes
The shadows cannot hide from me
The pain that lingers there
At the thought of lost love so fine
As him with the Silver hair.
Written by LoboWolf aka Don Dade
10/04/2003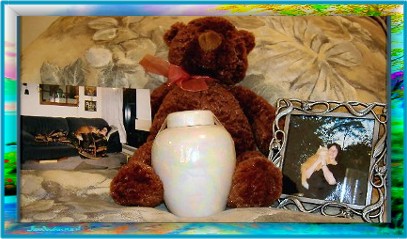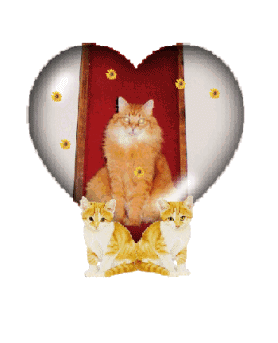 I gaze at your rainbow resting place and wish you peaceful dreams
I keep you near for in our dreams we touch, again floating on the stars
You are the face that is in my dreams as I call your name
Come to me my boy ease my heart and mind that you are near
To see you amongst the loves of my heart family, never alone
Dream glances of peaceful angels of the Rainbow.
I awaken from joyful dreams of seeing you standing strong
To gaze at your Rainbow resting place, Till we meet in our dreams
When the stars come out and guide me to you. I wish you good morning
My gentle boy. God holds you safe in the palm of his hand
Till my arms can hold you , never to let go.
Held in my heart, in dreams we will always touch.
A Rainbow dance of reunion.
Till we cross together my boy.
J.C. Stewart~*~June 19, 2006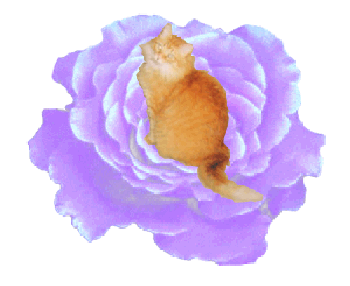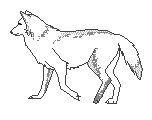 This page was created by


and is given with love from our hearts to yours.

If you,the artist,deserve credit for anything
used in creating these pages for hurting hearts,
please let us know immediately
and we will promptly take care of it.
Several elements on this page were adapted from a painting
by Jim Warren and used with his permission.

Music~*~Allways On My Mind~*~