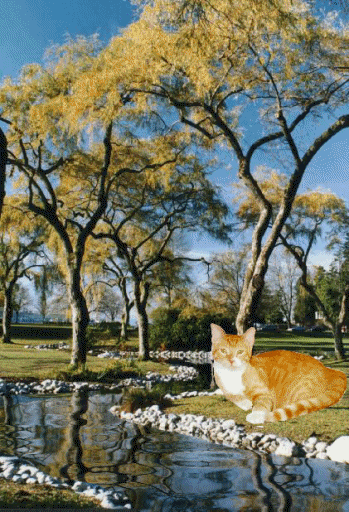 Eddie came to me because his owner threw him out after about a week.
I lived across the street and Eddie hung around, scared at first
but then he decided that he was hungary. I always fed the strays
there, and had a large pet taxi set up with heating pad, so
theyd have a warm place to sleep. Eddie was very loving,
and every morning I'd go out to the garage ( it was attached to house)
sit in my chair, and here would come Eddie, hed run as fast
as he could and land on my chest and rub his noes all over my face, Id hold him
and laugh he was so sweet. In the time we had him ( a little over a year)
Eddie was sick alot, we took him to the vet about 15 times, always
coming home with antibiotics for this or that . Once the vet said he had a
worm caused from drinking dirty water that he hadnt seen in years. But
he always seemed to get better. I never dreampt our time together
would be so short. Eddie had a wonderful time , especially at Christmas. One
year I bought them a tunnel, and he adored it. My husband would hold it up and Eddie would
run, jump in, and play like he was going to get us. He always thought all the toys
were just for him. I bought alot of things just because of Eddie, he enjoyed
his toys so much. The last year he was with us, I got them a cube house,
they could crawl through, he was in it before I got it put together. You know
I knew I loved Eddie but I never realized how much until I lost him.
His cube house remains in the same corner, because I cant stand the
thought of it no longer being there. When he was so sick, hed lay in it.
Eddie got sick on Jan 2 2006. I thought he just had a hair ball,
hed cough, and move his head from side to side. Later that
day I noticed he had labored breathing. We took him to the vet,
he did blood work and a chest exray. Eddie had so much fluid in his chest, you
couldnt see his heart. The vet told us it could be feline leukemia,
and if he didnt respond to the antibiotics in a week or so, we should think
about putting him to sleep. Eddie seemed to go down hill, he stopped eating, I
tried feeding him with a baby spoon, we got special food from vet, we bought
milk for kittens, anything and everything to get him to eat. Then one
evening I was giving them goodies, ( Id gotten from vet) they were very small.
Well Eddie ate one then another, I got so excited, I dont know how
many I fed him. Id prayed the night before, asking God to
please give me a sign, one Id understand. I thought I had my answer.
I just knew Eddie was going to be alright. The next day
was a Friday, my husband and I had agreed to let him go that day. But
we thought we had our answer. He had a terrible week end,
wed put him in our room, so hed have privacy, he had such a hard time sleeping.
We took Eddie to another vet, hoping he could do something
to help, he drew some fluid out of a tumor on Eddies side. We were taking Eddie to a
specialist, but it was to late to get him in. The vet sent the fluid off to a labatory,
it didnt come back until after we lost Eddie. One night Eddie
just started running and crying, the vet said he had pressure on his eyes.
Eddie would lay on the night stand and Id kneel down, petting
him, smelling him, storing up memories. One night just before he died,
I woke up to find him laying on my arm. In my heart I believe Eddie knew it was the end.
The night before we had him put to sleep, I layed on the floor, encouraging
him to drink. He wanted to so badly, but hed gag trying. I cried
a million tears that night, I stayed up with Eddie til 4:30. At one point he layed
his little paw on my hand. As if to say dont cry Mom.
On Jan 16th 2006, Eddie died in his daddys arms, aprox 8:30am.
Later that morning Id gone in to start laundry, (Eddie always tried to help with laundry)
he lay on the dryer swating the water, lol. Well that morning my oldest kitty
acted real strange in the laundry room. He sniffed up at the washer as if he was smelling something.
In my heart I know my Eddie came home one last time.
As I write this the tears flow. I miss my baby kitty so much and I love him
very much. I share your hope that our babies are waiting for us. I honestly
dont know how they cant be. I think to myself, if I love him this much, how much more must our Father in heaven love him?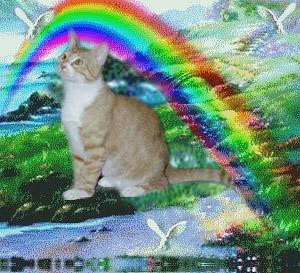 Ebbing tides of sorrow break,
Over those who will seek but ease.
The hearts and souls and minds that ache,
Waiting for the wind called peace.
The love that came from up above,
Was sent with them to us to teach.
Mission complete, took back his loves,
Now we wait for the wind of peace.
They brought His word to us to learn,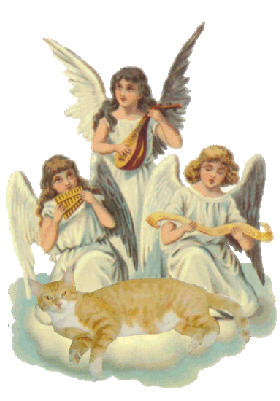 Now they fly on wings of iridescent hue,
A silverwolf was sent to me,
Who now flies with wings of blue.
So learn you well the word of love,
Even tho when gone you feel no ease.
When he takes them back above,
And leaves you searching for the wind called peace.
Written by:
LoboWolf aka Don Dade 10/02/2003

Always in my heart, always in my thoughts
Your sweet smile warms my dreams
I feel you near in the dawn of a new day
I see your eyes shinning back in the eyes of a friend
I feel your touch in a warm hug
You come to me in many ways
In the sun that warms my soul
In the rain that brings heart peace
In my dreams you run free
I see you strong and always mine
My Golden One you are my joy, my love
I watch the clouds flow by and see your image
I see you dancing on the clouds
Two hearts bonded are never apart
Love never ending always true and strong
Till the day of reunion I give you my heart
To hold and know you are always part of it
My Golden One, my joy always and forever

ŠJ.C.Stewart aka BarTendersBluesWolf~August 27. 2006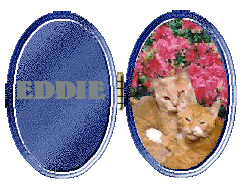 From Hearts That Care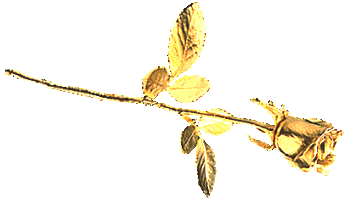 Music~*~EverGreen