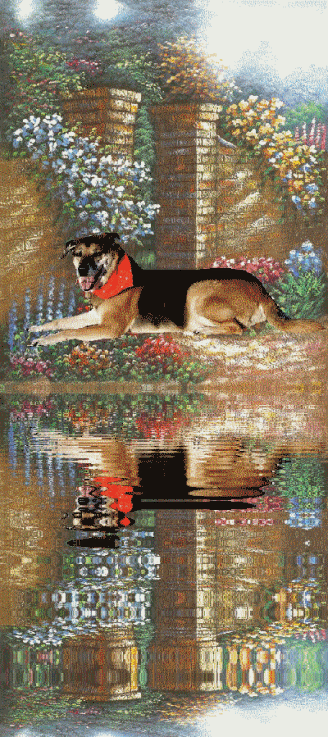 You came into my life as someone had asked me to be their wife.
It was such a happy time and for a while, I felt everything would be alright.
But then I moved and things started to change.
You were just a pup, about six months old.
Forced to learn about the bad things in life at such an early age.
Having to deal with another person's rage.
It breaks my heart still to this day, to think of what you must have endured.
Because I know you haven't forgotten it.
I see the signs when you see someone that looks like him.
That tucking your tail and backing up brings it all back to us both.
Though it's been nine years now, when I think of the hurt you experienced, it still brings tears to my eyes.
To have him come home in the morning and listen to your cries
while I hid in bed with my hands over my ears.
I feel I was a coward that I've let you down.
Please forgive me for not leaving him sooner.
You will always come first my life now.
I know you'd do the same for me, my sweet Duke dog.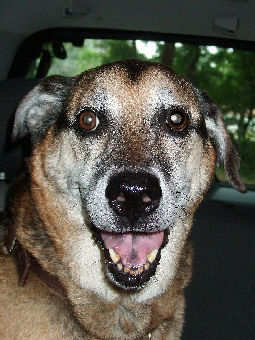 DUKE
I'd give my life for you if I could
because without you, my life is no good
You're getting older every day
It breaks my heart to see all that gray.
The time we have left is most dear to me
So I know I shouldn't spend it with worry.
I should cherish evey moment we have together
Just remember, I'll love you forever.
You get so sad when I have to leave
Those flat ears and sad eyes make me want to stay
I know you can't understand my going away
But even when I'm gone, you see,
There will be no permanent goodbyes
for you'll be in my heart at all times
I'd give my life for you if I could
because without you, my life is no good
My Sweet Boy
My tears fall like rain.
I'll never be the same again.
That day we had to say goodbye.
Is what is making me cry.
We had a bond that nothing could break.
Which makes the separation so hard to take.
You're at the Rainbow Bridge and I here.
How I wish I could hold you near.
Turn back time to make it so.
Hug you close and never let go.
My heart breaks a little more each day.
Realising that you're away.
So, my sweet dog, until we meet again.
I'll never forget you, my best friend.
My furry soulmate sent from heaven above.
I was blessed to have your devoted love.
Love,
Mama
Everything I Own
You sheltered me from harm
Kept me warm, Kept me warm
You gave my life to me
Set me free, Set me free
The finest years I ever knew,
We're all the years I had with you
And I will give everything I own,
I'll give my life, my heart, my home
I will give everything I own
Just to have you back again.
You taught me how to love,
What its all, all above
You never said too much
But still you showed the way
In my new, I'm watching you
Nobody else will ever know
The part of me that can't let go
I will give anything I own
I'll give up my life, my heart, my home
I will give everything I own
Just to have you back again
Is there someone you know
You're loving them so
But taking them all for-granted
You may lose them one day
Someone takes them away
And they don't hear the words you long to say
I would give anything I own,
I'll give up my life, my heart, my home,
I will give everthing I own
Just to have you back again
Just to touch you once again
Bread