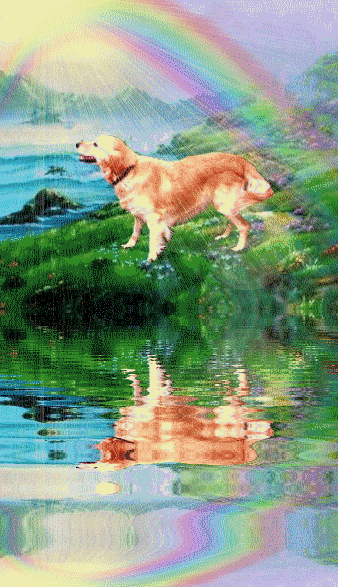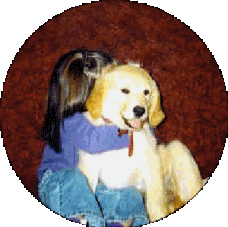 Itís been two weeks since you left us
and what a horrible two weeks they have been.
I still canít believe you are gone.
I canít believe I will never again come home to your sweet ďgolden smileĒ
and the fierce wagging of your tail.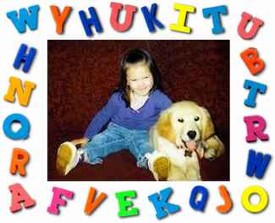 I remember the day we bought you.
Hailey was only three years old but oh how she had your daddy and I wrapped around her little finger.
When she started begging for a puppy, we werenít too sure at first
We knew what a challenge puppies could be, but of course we eventually relented.
I didnít know very much about dogs but I started searching and asking and learning all I could.
Over and over again I kept receiving the same answer.
"buy a golden retriever and you will never be sorry."
So your daddy and I spent a great deal of time searching for the perfect one
and the minute we saw you, we knew you were it.
You were so full of life!
You licked our faces and wagged your tail and we just knew you were made for us.
I couldnít wait to bring you home.
Those weeks we had to wait felt like an eternity, but finally it was time!
The night before Haileyís birthday party we drove to get you and we couldnít believe how much you had grown!
It was quite an adventure trying to keep you a secret until the party.
I still donít know how she didnít hear you in our bedroom.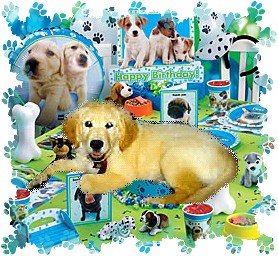 You patiently waited for everyone to eat their cake and ice cream,
almost as if you knew your grand entrance was coming up.
One of my fondest memories of you was when we opened that bedroom door.
There must have been 15 children there and at least twice as many adults
but without ever even laying eyes on Hailey before, you knew you belonged to her.
Without hesitation you ran right up to her, jumped in her lap and started licking her face.
She squealed with delight and your tail wagged even harder.
Those first few weeks with you were very trying!
I lost count of how many Barbie dolls and shoes we lost to your constant chewing
but it didnít take you long to catch on and before we even knew it, you were the best dog we could ever ask for.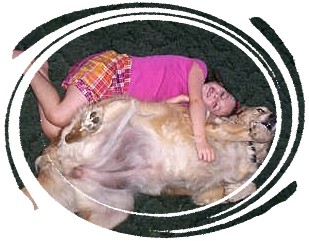 You and Hailey were inseparable from the start.
She refused to go outside and play unless you were out playing with her.
They say golden retrievers make horrible guard dogs because they "never meet a stranger"
and while itís true that you loved everyone you met (and everyone you met loved you too)
you were fiercely protective of Hailey.
I found that out that day daddy and I were working in the yard
and Hailey was around back on her swing set.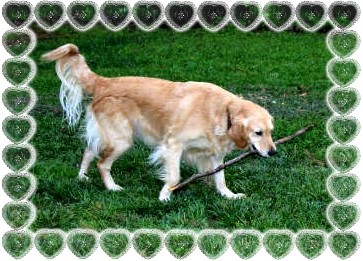 She saw a bee and screamed and you nearly knocked us over you were running so fast to get to her
. As soon as you saw her come around the corner safe and sound, you happily trotted back with her.
I was always amazed each time we went on a walk together
how Hailey would ride ahead of us on her bike and you would run alongside her,
never being more than 2 feet apart.
When we would call to her to stop and wait for us to catch up,
you sat patiently beside her, waiting for her to take off again.
I remember how we worried about how you would react when we found out we were expecting the twins.
You had never been around babies before and you had grown quite accustomed to our cozy little family.
We werenít sure how you would respond.
But like the good girl you always were, you welcomed them into our home with open paws.
I felt sorry for you at times, after they learned to crawl.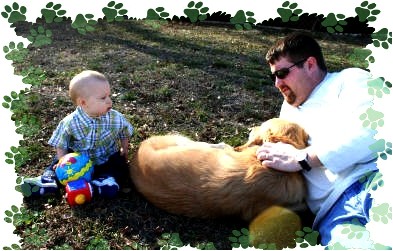 You were their big furry playmate and oh how they loved to climb on you and tug on your various doggy parts.
If you were ever annoyed by them, sweet girl you never showed it.
You were so patient and gentle with them
that it brings tears to my eyes thinking about it now.
How my heart breaks that you will never get to run outside and play with them.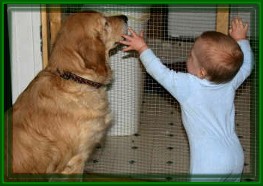 And how my heart breaks that they are far too young to remember you.
I feel so cheated out of the many years we were suppose to still have with you.
I miss you so much that at times I almost canít bear the pain.
I sit in "our spot" on the top step of the deck and stare out at your grave and cry everyday.
You were taken from us much too soon, with so much left unsaid.
I wish I had known you would be leaving us.
I wish I had some kind of warning that our time was over.
I wish I had been able to be by your side, gently petting you and telling you all was ok when you left.
The guilt I feel consumes me.
You were so loyal and faithful to us every single day,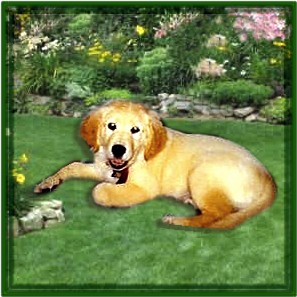 always by our side, yet we failed you Chloe, when it mattered the most.
We werenít there for you when it really counted and for that my sweet girl, I am tormented.
I cry uncontrollably wondering how much pain you felt and how scared you were.
I would give up everything I own if I could have that day back.
I never thought I would be able to say that with three small children our house feels empty, but it does.
Nothing is the same without you.
I cried at dinner the other night because I looked down and you werenít standing there, patiently waiting for your fair share.
The first time I vacuumed after you died, I actually checked the connection on the hoses.
I thought something was clogged or broken, then realized it was so empty because I wasnít vacuuming up all your hair.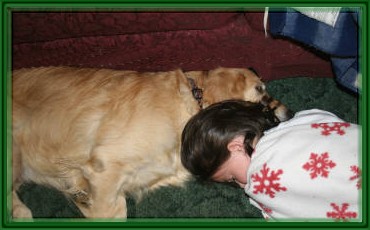 Hailey misses you terribly and hasnít been playing outside or riding her bike much.
Daddy hates going to bed without you, and I miss how you would wait for him to fall asleep,
then come hop up on the couch and watch tv with me.
I never did tell him our little secret tho, donít you worry.
He still thinks you stayed with him all night.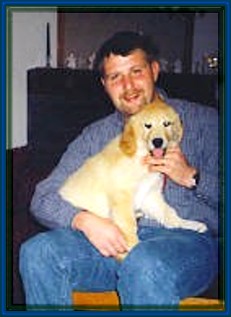 Though our years with you were cut far too short,
you made sure to show us each and every day how much you loved us.
I have never before experienced such unconditional love and doubt I ever will again.
This is not goodbye my darling but simply "Iíll see you later."
Please take care of all the little angels at Rainbow Bridge who are waiting for their owners,
and know that I will be loving you and missing you until the day we are united again.
Love,Mommy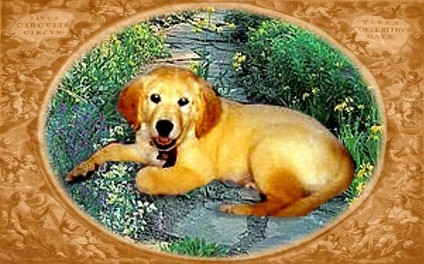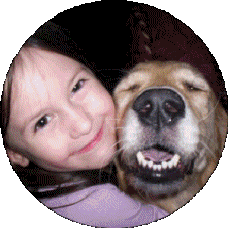 Gentle eyes gazing up into mine let me know you were the one.
Golden fur like hand spun silk so soft beneath my touch.
We knew at our first look you would be our morning sun.
But never in our wildest dreams did we think we could love so much.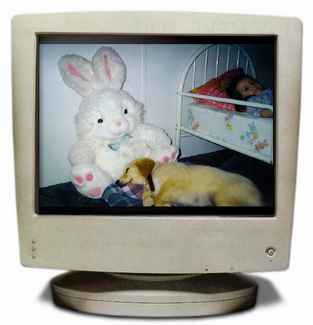 The guardian angel of all you loved protector brave and true.
Safely in your care we knew our world was free from fear.
Running swiftly each and every time someone needed you.
To make sure they were safe from harm and kiss away each tear.
Joy in the simple wagging of a tail and the happy kisses freely shared.
Knowing you were part of us made each day special beyond our dreams.
Your every jesture let us know just how much you cared.
Then all to soon you were taken away and there is no joy it seems.
Our lives are not the same sweet one since the day you went away.
The joy is gone and our hearts are sad we miss you oh so much.
We wish with all our hearts we could turn back time to before that awful day.
For one more happy joyful walk, for one more gentle touch.
Just one more moment to let you know how much you mean to all you love.
How very much we need you and wish you could have stayed .
But the angels came and carried you away to the rainbow bridge above.
And we just want you to know you do not have to be afraid.
For as you kept us safe while you were here and gave us all your love.
And filled our hearts with joy each day as noone else could do.
So the angels will take care of you and help you watch over us from above.
And one day we will all be together again when we come to be with you
© Kathy Hayes aka Katie~~July 12 2006~~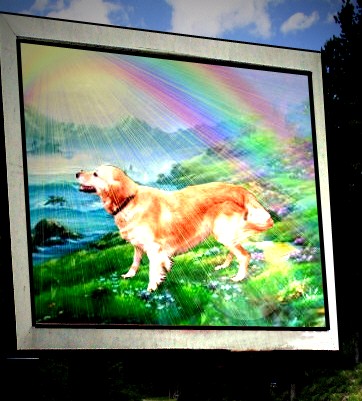 Let me be your wings
I will help you fly
Help to ease the pain
Since she said,Ē Good-bye
Iíll stay right by your side
You can trust me to
For I've felt the pain
You are going through
One day the clouds will part
And you will see the sun
Golden memories will revisit
Of your precious little one
The gentle winds will return
Tears will leave your eyes
You will find your wings anew
And your heart again will fly
One day the road will turn
And she will leave your heart
To walk right by your side
And we níer again will part
© Carol aka CareWolf
July 10, 2006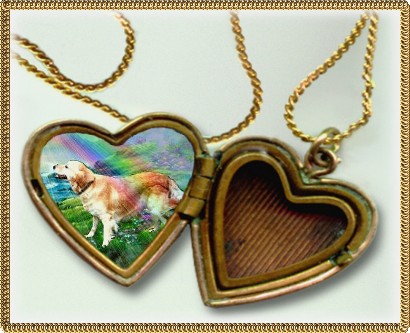 by Diamond Rio
Every now and then,
Soft as breath upon my skin,
I feel you come back again,
And it's like you haven't been,
Gone a moment from my side
Like the tears were never cried
Like the hands of time are holding you and me
And with all my heart I'm sure,
We're closer than we ever were
I don't have to hear or see,
I've got all the proof I need
There are more than angels watching over me
I believe
Oh, I believe
Now when you die your life goes on
It doesn't end here when you're gone
Every soul is filled with light,
It never ends and if I'm right,
Our love can even reach across eternity
I believe
Oh, I believe
Forever, you're a part of me
Forever, in the heart of me
I will hold you even longer if I can
Oh, the people who don't see the most,
Say that I believe in ghosts
If that makes me crazy, then I am,
'Cause I believe
Oh I believe
There are more than angels watching over me
I believe
Oh, I believe
Every now and then,
Soft as breath upon my skin,
I feel you come back again,
And I believe