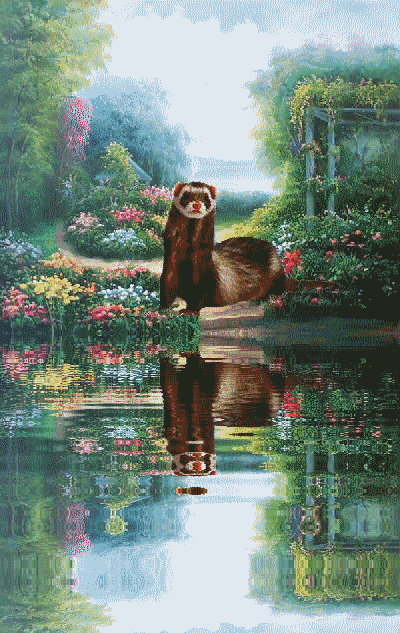 TO MY LITTLE MAN
I love you so much and I know you are still with me.
The butterflies visit me often and I know you send them
to comfort me. I can't wait to see you at Rainbow Bridge.
Rest in peace my little man Arthur.

Momma loves you always.

To my sweet angel, Arthur,
I had no idea you were leaving and I was shocked
and saddened when I found you. How I grieve for
you. The days are dark now. You were a tiny boy
when you came in and stole my heart. When you were
a yr old you got sick. You were so weak and tired, I
begged you to stay. And you did. I thought for sure
you would live to be a little old man, toddling about
the house, teasing the kitties and your puppy Piper.
Every sweet day you had with me is a treasured
memory. How I miss your sweet thieving ways.
Stealing my keys, socks, everything you could
find. And hiding them in your hiding places. I still
find things, like the dog's bones and the toys you had,
and my little garden frog, I had been missing for a
year. Well, he now sits on your grave. How I miss
hearing your little feet scampering through the house,
making your rounds, getting in the cereal box, and
running off with cereal. Your special drawer where
you would sleep for your naps is still in its place. I
can't put anything in it. It will always be your
drawer.


You gave me the most special, unconditional
love ever. Your puppy Piper is still missing you. She
looked everywhere for you. She kept looking at your
drawer and barking. Maybe you were coming back in
spirit to say goodbye. Maybe she could see you when I
couldn't. I do feel you; I feel your sweet spirit
everywhere.

The house is so empty without you. I planted a
memory garden on your grave. Beautiful flowers are
there, and angels and animal statues. And your little
frog.

I know your playing on Rainbow Bridge. Please
wait for me there. I love you sweet boy.

My little man.
I love you always,
Your Mama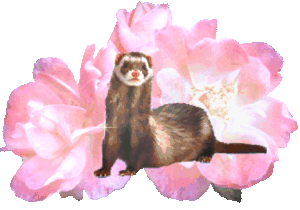 Butterflies
Since My ferret Arthur left me I have had many
butterflies visit, usually a black one who is absolutely
gorgeous. He landed on me and then flew and sat on
Arthur's headstone. Since, then the black one has
dive-bombed me once, lol, this reminded me of
Arthur cause he used to play attack me. I have
also seen yellow, orange, white ones around. They're
so beautiful.

Amy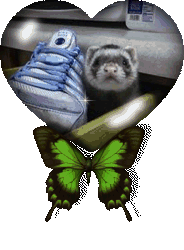 Do Not Stand At My Grave And Weep

Do not stand at my grave and weep,
I am not there, I do not sleep.

I am a thousand winds that blow.
I am the diamond glint on snow.
I am the sunlight on ripened grain.
I am the gentle autumn rain.

When you wake in the morning hush,
I am the swift, uplifting rush
Of quiet birds in circling flight.
I am the soft starlight at night.

Do not stand at my grave and weep.
I am not there, I do not sleep.
Do not stand at my grave and cry.
I am not there, I did not die!

Mary Elizabeth Frye (1932)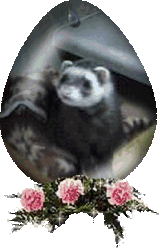 ~*~ ~*~
~*~ Eva Cassiday ~ Fields of Gold ~*~