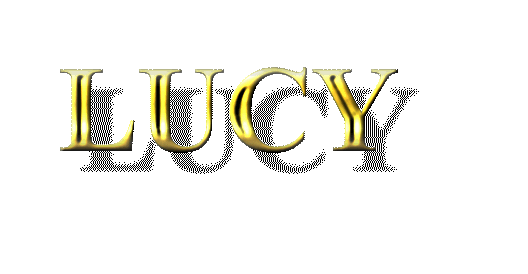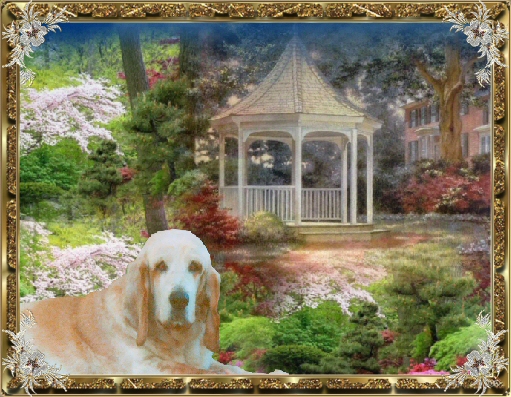 Lucy, you came home with us when your daddy passed on and you were with us 2 1/2 years. I love the way you always greeted us at the door with a stuffed sock or a ball & your tail wagging as fast as you could wag it. You always ran through the house rubbing your nose on the carpet. Then you'd roll over trying to "ride an invisible bike". When you needed out you'd bark as loud as you could to let us know.You loved going to the park just to run with your ears sailing behind you. Your favorite past time was going on car rides. Meal time was another favorite past time. When you had your 15th birthday we asked 2 things of you after that. That you hang on till Christmas which would be our ultimate gift & to watch the New Year in with us.You gracfully did both for us. When you were ready you let us know it was time for you to go. We sent you on to the Bridge with our love.


"When Tomorrow Starts Without Me"
"When tomorrow starts without me, And I am not there to see, If the sun should rise and find your eyes, All filled with tears for me, I wish so much you wouldn't cry, The way you did today, While thinking of the many things, We didn't get to say,

I know how much you loved me, As much as I loved you, And each time that you think of me, I know you'll miss me to, But when tomorrow starts without me, Please try to understand, That an angel came and called my name, And took me by the hand, And said my place was ready, In heaven far above, And that I'd have to leave behind, All those I dearly love, But as I turned and walked away, A tear fell from my eye, For all my life I'd always thought, I didn't want to die, I had so much to live for, So much left yet to do,

It seemed almost impossible, That I was leaving you, I thought of all the yesterdays, The good ones and the bad, I thought of all the love we shared, And all the fun we had, If I could relive yesterday, Just even for a while, I'd say good-bye and kiss you, And maybe see you smile, But then I finally realize, That this could never be, For emptiness and memories, Would take the place of me, And when I thought of all the worldly things, I might miss come tomorrow, I thought of you and when I did, My heart was filled with sorrow,

But when I walked through Heaven's gates, I felt so much at home, When God looked down and smiled at me, From His great golden throne, He said, "This is eternity, And all I've promised you, Today your life on earth is past, But here life starts anew".

Author Unknown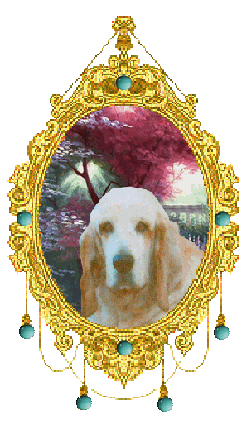 "A Loan From God"
God promised at the birth of time, A special friend to give, Her time on earth is short, He said, So love her while she lives. It may be for eight or ten years, Or only two or three, But will you, till I call her back, Take care of her for Me?

A wagging tail and cold wet nose, And silken velvet ears, A heart as big as all outdoors, To love you through the years. Her puppy ways will gladden you, And antics bring a smile, As guardian or friend she will, Be loyal all the while. She'll bring her charms to grace your life, And though her stay be brief, When she's gone the memories, Are solace for your grief. I cannot promise she will stay, Since all from earth return, But lessons only a dog can teach, I want you each to learn. I've looked the whole world over, In search of guardians true,

And from the folk that crowd life's land, I have chosen you. Whatever love you give to her, Returns in triple measure, Follow her lead and gain a life, Brim full of simple pleasures. Enjoy each day as it comes, Allow your heart to guide, Be loyal and steadfast in love, As the dog there by your side. Now will you give her all your love, Nor think the labor vain, Nor hate me when I come to call, To take her back again? I fancy each of us would say, Dear Lord, thy will be done, For all the joys this dog shall bring, The risk of grief we'll run.

We'll shelter her with tenderness, We'll love her while we may, And for the happiness we've known, Forever grateful stay. But should the angels call for her, Much sooner than we've planned, We'll brave the bitter grief that comes, And try to understand. If by our love we've managed, God's wishes to achieve, In memory of her that we have loved, And to help us while we grieve; When our faithful bundle departs, This earthly world of strife, We'll get yet another pup, And love him all his life.

Author Unknown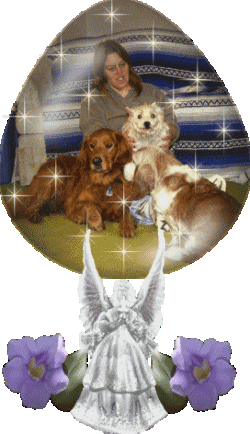 "A Million Times I Will Miss You"
They say memories are golden;
well, maybe that is true.
I never wanted memories
I only wanted you.
A million times I will miss you,
a million times I will cry.
If love alone could have saved you,
you never would have died.
In life I loved you dearly,
in death I love you still.
In my heart you hold a place
no pup could ever fill.
It broke my heart to lose you,
but you did not go alone.
For part of me went with you,
the day God called you home.
Your precious memory is my keepsake,
with which I'll never part.
God has you safe in His keeping,
but I'll have you forever in my heart.
If tears could build a stairway,
and heartache make a lane,
I'd walk the path to heaven
and bring you back again.
Our family chain is broken,
and nothing seems the same.
But as God calls us one by one,
the chain will link again.
Author Unknown