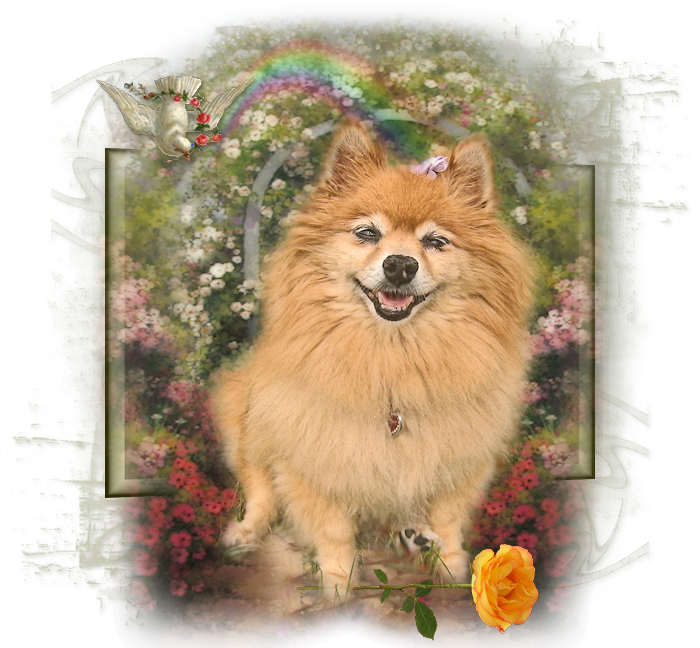 Trixie chose us to be her family when she was just 8 weeks old. She was as cute as can be, somewhat resembling a little fox cub. Upon our arrival at the breeder's home, we walked up to her litter's gated area. There she was, in between her two sisters, all three jumping up and down in a bid to grab our attention. Then, all of a sudden, Trixie turned her head to her right and loudly snapped at her sister, then turned her head to the left and snapped at the other. Now, the last one standing, she proceeded to jump up and down with the happiest, goofiest smile I had ever seen. It was as if she knew then, that she had won all of our hearts. And that she did. Trixie came home with us that night. I was just under 9 years old. Little did I know at the time, of the important life lessons she would be teaching me throughout the many years to come.

Being the youngest of our family, I had the most time to spend together with her each day, going on our own secret adventures. She was the happiest and funniest companion a little girl could ever ask for. But not only that - she was an old soul, something I feel we had in common at such young ages. As we sat on many a stoop, or I pondered life's mysteries from a cliff nearby our family's trailer that we frequented during the summers; she sat by my side and there she remained for several hours, seemingly thinking and wondering as I was. This was just the start of the spiritual bond that she and I developed together. Over the next few years as we grew up together, Trixie saw me through all of life's obstacles. And at times when I thought I would not be able to surpass them, she was by my side, each and every time. Her beautiful little face and her deep, knowing eyes were all the quiet reassurance that I needed. Everyday my love for her grew so deeply and steadily, I realized what it truly meant to love someone who loved me back a thousand-fold. This exchange had become a common theme in our life together. She taught me what it meant to love someone throughout life's many ups and downs. That no matter what, we had each other. Our heart as one.


The next few years were filled with many more of our secret adventures, just like we had as kids. But with time, we had both grown calmer, and Trixie's stride noticeably slower. This gave us even more reason to explore each and every surprise that came our way. The Sun seemed to shine more brightly in Trixie's presence, the flowers more fragrant, the waters more sparkling. She taught me what it really meant to stop and smell the flowers each and everyday. Trixie and my boyfriend, Ian, developed a special bond of their own. Along with his dog Chewy, a Bernese Mountain Dog, we came to live together as our own little family. We celebrated everything together. Every birthday, every Halloween, and every Christmas. Every Valentine's Day, every Easter, and even every made up occasion that we could dream up. We had anniversaries for everything, and I always went all out. Trixie brought our family so much joy; she loved to make us laugh. With her signature smile, she would often get herself stuck (sometimes literally) in the silliest of situations. We often cried laughing. We laughed until our stomachs ached everyday because of her. Chewy adored Trixie and set out to win over her friendship. They made quite the pair with their difference in stature and personalities. Ever the friendly giant, Chewy was submissive and a bit of a scaredy cat. Trixie, a tiny little furball with a huge personality, brought out his protective side around other dogs. I would sometimes catch him admiring her from afar, in one of her many outfits, complete with wagging tail and enamored look in his eyes. In the Summers, they loved to go to the High Park Zoo, or to Ian's cottage for several days at a time. In the Wintertime, all four of us would bundle up and drive over to one of their favourite parks late at night, to play in the freshly fallen snow.

One night, in March of 2011, Trixie suddenly lost mobility in both her hind legs. At that moment, I was struck with absolute fear and it broke my heart to see her drag her little legs behind her. Her sudden state did not prevent her from trying to get around, using the same force and happy determination she had always displayed all of her life. We rushed her to the emergency clinic where she had to remain overnight. I remember so vividly, crying hysterically as I did not want her to feel like I was abandoning her at such a frightening time. I was advised to contemplate euthanasia because at her age, some didn't think it was fair to put her through anymore stress. I knew my little girl. She was more resilient than anyone I'd ever met. She regained control of her legs all on her own, with the help of some medications to regulate pain in her back as they suspected she had had a slipped disc. I took her home after three days with so much joy and gratitude in my heart that I thought I could burst. Back where she belonged, I laid her down on our bed and she looked so relieved to be home again.

The next year and four months were the most amazing of all. Each day I was so grateful that she was still with us. Every season was truly treasured, every holiday was even bigger than before. I threw the most elaborate celebration of all for her 15th birthday on November 20, 2011, including just the four of us. Our Christmas was even more special than the last. And in March of 2012, we celebrated the day she came back to us with a trip to the doggie bakery, and then my birthday again a few days later. We had an amazing Spring, looking forward to the Summer ahead and what fun it would bring us. Then one day, Trixie began having seizures. She had two within two months, so they weren't very close together. Because of this, it was not deemed an emergency. We were advised to make an appointment for bloodwork and other tests to begin ruling out the causes. Our appointment was not for another week, so Ian and I decided to make the best of our time with her. We went on a special road trip with her five hours east, to Montreal. Just us three. She enjoyed our suite so much and the comfy bed that we shared together. Trixie received 5 star service. Her little Hello Kitty backpack was carted around on the golden trolley along with our luggage, by the bellman. She explored new parks, sniffed new territory, and had a picnic with us in the sunshine. She shared dinner with us in our big, comfy bed, and went shopping for new treats and hair bows. After three fun-filled days, we drove back late at night while she and I snuggled all the way home. She always had a way of telling us how happy and grateful she was for all the good times, by looking up at us with a sweet smile and a quick kiss on the hand.

Back home, I took Trixie to her vet appointment on a Thursday. She stayed there for a few hours while they tested her. I counted down the minutes until I could pick her up again and then went for a walk with her through the park that lead us back home. The next morning, I awoke to her having another seizure. I had leapt out of bed before I even knew it, and comforted her as she regained consciousness. I hated to see her like this. She was my World, my everything. She recovered quickly and I washed her up. Shortly after, her vet called with some of her test results. One of her blood tests and her urinalysis hadn't come back yet. But everything else seemed fine. This was good and bad. It meant that she did not have liver failure, one of the possible reasons a dog her age could be having seizures. But it also meant that she could have a brain tumour growing inside that tiny little head of hers. Since it was a weekend, her vet told me that the rest of her results should be coming back on Monday, and that that was when we'd start her on some medications to help regulate her seizures while we decided on how to proceed.


Saturday afternoon, it was a sunny Summer's day. Ian and I took Trixie and Chewy outside for a walk by the fountains outside our apartment. Trixie was in her usual good spirits, maybe even better. Trixie seldom played with other dogs she didn't know. She had an aloof personality with most. But on this particular day, she saw a Poodle playing fetch. She decided to join in and start playing (or what she considered playing) and pranced around, then ran right past her new friend. She had a huge smile on her face and I was delighted to see her this way. It was a beautiful sight. Even with age, Trixie's glorious hair had grown thicker and softer beyond imagineable. It always glowed in the sunshine as if she had a halo around her at all times. We all went back inside to have lunch together. Then she and I hung out for the rest of the day, watching our favourite shows together, having a nap or two somewhere in between.

Early the next morning, around 2:20am, Ian had come home from work. Shortly after, Trixie and I sat in our bed like usual, until I noticed her sway once from one side to the other. I called out her name, not wanting her to seizure again, and she gave me a smile and came closer to me. I called out for Ian, who hurried into the bedroom. I was struck with fear again, this time seemed different. I pet her and talked to her, getting ready for the seizure to come, my heart pounding by now. I could tell she was trying to fight it. But the fear did not leave me. She entered unconsciousness as it came. I kept petting her and told her I loved her as I waited for her to recover. But this time she didn't. I entered into a state of shock as I felt for her heartbeat that wasn't there. How could this be? She could get through anything. She was the love of my life, how could she be gone? I tried to stay calm as I didn't want negative energy surrounding her. We placed her gently in a fabric box lined with a small pillow and covered her with a towel. We drove her to the Emergency Clinic, it was the only place to go at that time of night. I remained in complete shock as the lady continued to ask me questions about cremation and aftercare.

Waking up later that day was the hardest thing to do. To find her not looking back at me with her beautiful face that I searched for in the room every time I opened my eyes. I felt like I was trapped in a nightmare, it was so surreal. A few days later when I spoke to her vet, she told me that Trixie must have had a clot in her brain from the tumour that we had suspected. The rest of her results had come back and her blood results were abnormal, suggesting cancerous cells. I tried so desperately to find answers. What could I have done better, if I had only tested her a couple of days sooner, was it all my fault? She assured me that while I could've possibly regulated the seizures, in the case of a clot, there was nothing that I could do. I still wonder if I had done something different, would she still be with me? Then at times I'm reminded of the fact that she had passed away only one day before she was to start on her medications. Perhaps it was just her time to go, although I still can't grasp the fact. I've always believed she was sent to me from above. Maybe she had to go back to where she came from. We miss her everyday. I would give absolutely anything to be able to just hold her one more time. To smell her soft, gorgeous fur. Or look into her beautiful, soulful eyes. I try to remember the amazing years that she gave me. Everyday, filled with joy. I think of all the times she made me laugh hysterically, well aware of her effect on me. Her smile lives on - her warmth, her devotion to me, and her undying love. It doesn't take away all the pain I feel as my heart aches for her. But I'm so grateful that she shared her life with me. She left with dignity and grace. I'm so thankful that it was with us, at home, and in our bed where she loved to be.


Trixie - I will always love you, you are my number one. Even while you were still here, I pictured you when I pictured Heaven. I will ache for you until the day I can see your beautiful face again. Please rest, play as you please, and feel as much joy as your heart can handle. Please visit often, and let me know you are happy. Your garden is doing so well. Thank you for all the joy you've brought me over the years. I'll never love another the way I love you. I would've done anything for you, and I still would. Until we meet again, I will love you always & forever. My Angel, my heart, my best friend. 11/20/96 - 06/24/12.



Light a candle in Trixie's memory, for a sick, abused, or special needs furbaby, or perhaps just someone who needs a prayer and a candle lit.