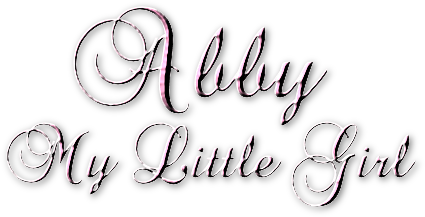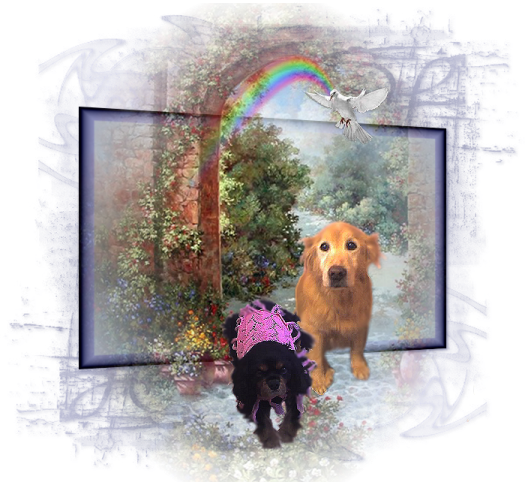 My little girl Abby passed on Sunday Oct 3rd at about four pm in the afternoon before Xmas. She had chf, took fits, had bad teeth and breath too. Abby was only 10 years old. She was a black and tan Cavalier King Charles Spaniel. Abby you will be missed by Mommy and Malfoy. You are up at Rainbow Bridge with Goldie we miss him too lots. Abby was also my little girl, she was as special to me as Goldie was. Mommy has been crying and being sad for you and Goldie. Abby malfoy and I miss you so much. I didn't expect this to happen to you. Malfoy still goes to Happy Hounds with all the other doggies, he is being strong and good for you Abby.



Abby my little girl, I remember when mommy first got you from the breeders at Kennel Drumadowney. Goldie and I were so excited knowing you were coming to live with us. We were so happy then you and Goldie got to know each other. With lots of kisses and hugs of doggie greetings. Mommy always wanted a Cavalier, you were the doggie for Goldie and me. You were a lovely little girl, black and tan named Abby Abs - Glenorr Black Pearl. I believe you were only five or six when Mommy and Goldie got you. Mommy got you from the breeders because Goldie and I were feeling lonely. We wanted another furbaby named Abby Abs. You were shy at first when you came to us. I still remember you hid under my bed. You were a bit scared at first as you got to know Mommy and Goldie. Then thru time you grew out of that. You always came over to Mommy and Goldie we all started going out for walkies and feeding you both. I kno you and Goldie liked each other alot.You both got on very well bro and sis doggies. Now mommy has Malfoy is only six Abby. My little girl you are up at Rainbow Bridge with Goldie. Mommy and Malfoy Mallie miss you both ever so much.




My Goldie and Abby fur angels, I was meant to write this letter to you both. Now Mommy is here with Malfoy. I miss you both ever so much. Goldie my wee man sorry I couldn't send you more balloons up to rainbow cos mommy wasn't well and Abby you too. My little girl I hope you got your pink balloons I sent up to you at Rainbow Bridge. Mommy still remembers some of the funny and good times I had with both my furangels. I wish it never had happened to you, but you fell sick on Mommy. That makes me feel sad unhappy, I cry a lot for you both. Malfoy misses you Abs. I have some new names for him. I sometimes call Malfoy - Mallie, Malfert, Mallie Moot Moot funny names for him. He still goes out for walkies to Happy Hounds with all your doggie friends that miss you. There is Maggie, Princess, Charlie, Mollie, Bruno and Kimmie. Your other wee doggie friend Annie shes not with Happy Hounds any more as to old age and lives with other owners. Suzanne misses you too Abby. Malfoy and all your doggie friends all think of you up at the Bridge walking with a new pet service as mommy calls it. Happy Angels pet care. I hope Goldie is walking with you and you both are happy and well up at Rainbow Bridge. Mommy and Malfoy miss you both so much.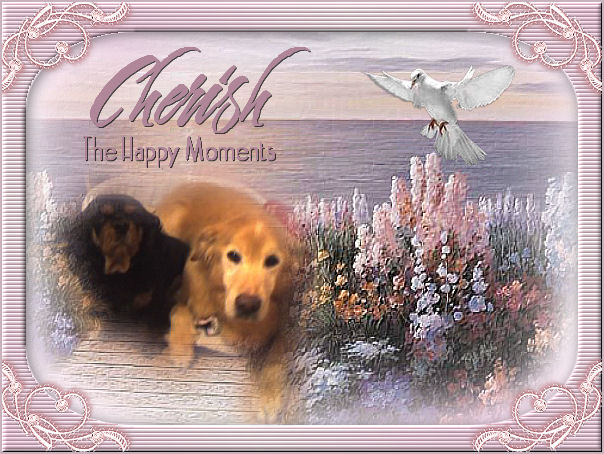 My Golds and Abs, lots of kissies xxxxxxxxxxxxxxxxxxxxxxxxxxxxxxxxxxxxxxxxxxxxxxxxxx xxxxxxxxxxxxxxxxxxxxxxxxxxxxxxx and (((((((((((((((((((hugs))))))))))))))))))) from Mommy and Mallie.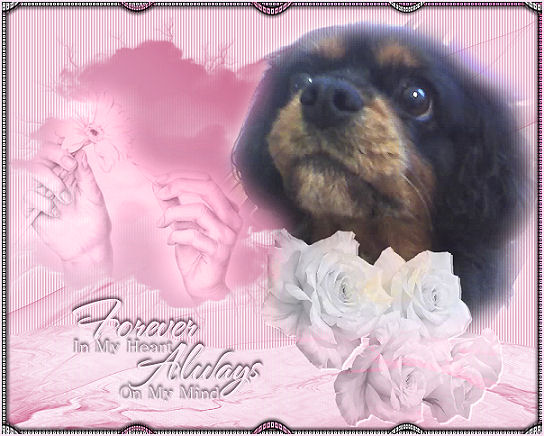 After the storm had blown away,
I saw a rainbow up above.
It spoke to me of peace,
It spoke to me of love.
I saw the rainbow glowing,
As it replaced the stormy skies,
I felt a fear down deep inside,
As it reflected in my eyes.
In a shadow I stood there,
Tall and strong and bold,
On my cheeks ran silver teardrops,
Some were new and some were old.
My love for you
Glows in each silver tear,
The colors run together now,
And wipes away my fears.
(c) Lobowolf
aka Don Dade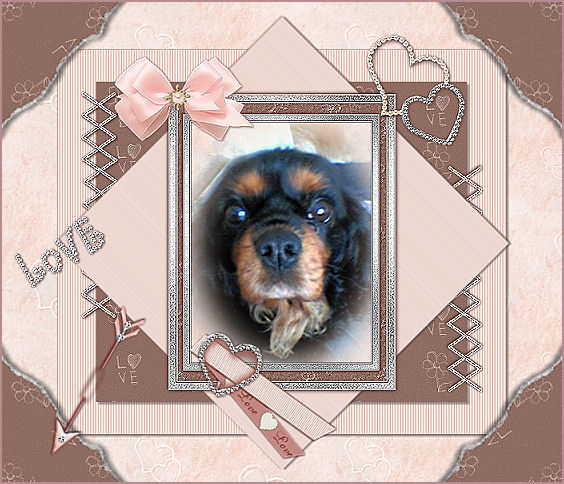 Our hearts are forever linked, we are part one of the other
We bound our souls together and a journey we began
We faced the world as one as we traveled through this life
We chose our trail and then began walking hand in hand
Now I continue the journey on the path we had chosen
And as I face our path alone and you travel on ahead
I know that you are also here to guide and guard my steps
To help me to keep true to the path where once you lead
And though now there is only a single set of footprints
I do not fear for I know that I still travel on with you
I feel you as you continue to lead and guide my steps
As you continue leading me from just beyond my view
(c) Candace
1/4/05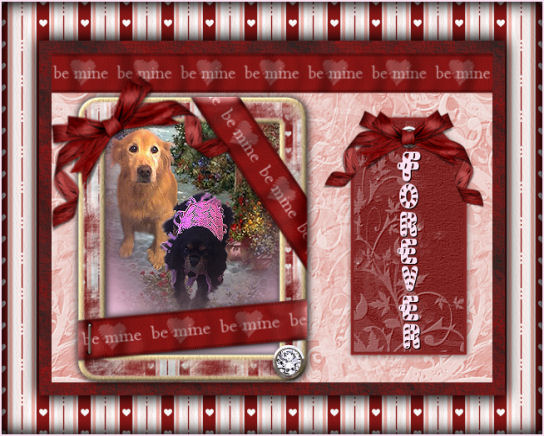 So Much Joy You Have Given Me
Always In My Heart, My Soul
Love Ever Lasting
Imprinted On My Heart
Dreams Of Special Moments
My Beloved Ones
Always Near
Always Mine
As I Am Always Your's
I see you Running Free
On Clouds Of Silver
Take With You My Touch
To Warm Your Dreams
Till I Am By Your Side
I Will Always Carry
Your Paw Prints On My Heart
(c)J.C.Stewart Aka
BarTendersBluesWolf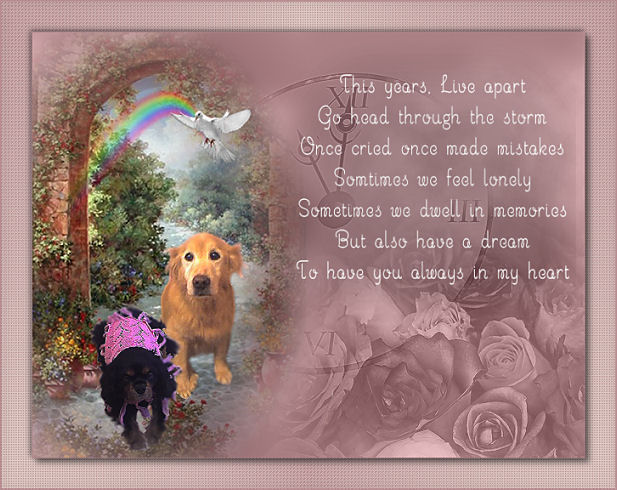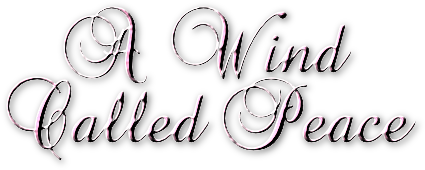 Ebbing tides of sorrow break,
Over those who will seek but ease.
The hearts and souls and minds that ache,
Waiting for the wind called peace.
The love that came from up above,
Was sent with them to us to teach.
Mission complete, took back his loves,
Now we wait for the wind of peace.
They brought His word to us to learn,
Now they fly on wings of iridescent hue,
A silverwolf was sent to me,
Who now flies with wings of blue.
So learn you well the word of love,
Even tho when gone you feel no ease.
When he takes them back above,
And leaves you searching
for the wind called peace.
Written by:
(c) LoboWolf
aka Don Dade
10/02/2003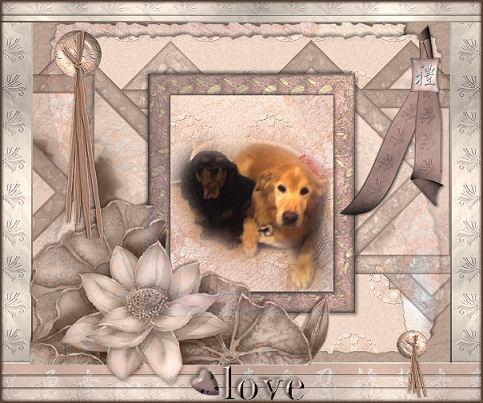 Light a candle in Abby's memory, for a sick, abused, or special needs furbaby, or perhaps just someone who needs a prayer and a candle lit.