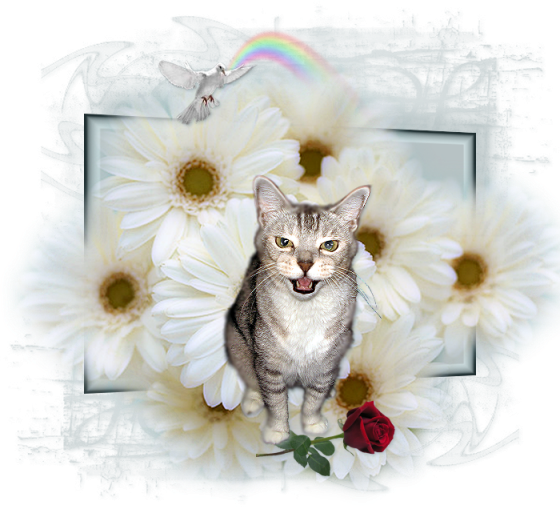 Those big ears!
Those little gray arms reaching through
those bars on the day we meet.
Singing in the shower.
You with more of the bed than us.
You sleeping under the Christmas tree!
Bows everywhere!
Your warm body next to us under the blankets on a cold night.
Waking with you laying on our chest, face to face.
We had the cleanest hair with you around.
You sitting on our books as we try to do school work.
Your attempts to use the key board of the computer.
You helping yourself to our drinks.
Litter boxes for only one cat.
Your love for Ms. Kate.
Trying every food available to get you to eat.
Your beautiful smile when you peacefully slept.

If it should be that I grow frail and weak
And pain should keep me from my sleep,
Then will you do what must be done,
For this -- the last battle-- can't be won.
You will be sad I understand,
But don't let grief then stay your hand,
For on this day, more than the rest,
Your love and friendship must stand the test.
We have had so many happy years,
You wouldn't want me to suffer so.
When the time comes, please, let me go.
Take me to where to my needs they'll tend,
Only, stay with me till the end
And hold me firm and speak to me
Until my eyes no longer see.
I know in time you will agree
It is a kindness you do to me.
Although my tail its last has waved,
From pain and suffering I have been saved.
Don't grieve that it must be you
Who has to decide this thing to do;
We've been so close -- we two-- these years,
Don't let your heart hold any tears.
Author Unknown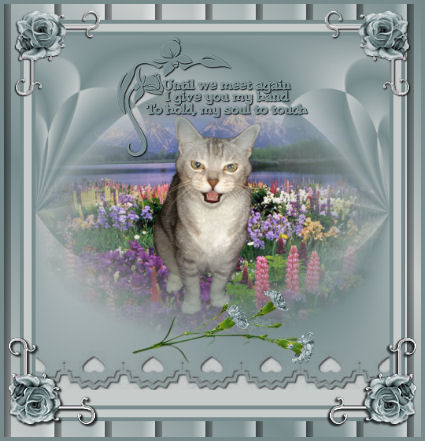 Ebbing tides of sorrow break,
Over those who will seek but ease.
The hearts and souls and minds that ache,
Waiting for the wind called peace.
The love that came from up above,
Was sent with them to us to teach.
Mission complete, took back his loves,
Now we wait for the wind of peace.
They brought His word to us to learn,
Now they fly on wings of iridescent hue,
A silverwolf was sent to me,
Who now flies with wings of blue.
So learn you well the word of love,
Even tho when gone you feel no ease.
When he takes them back above,
And leaves you searching for
the wind called peace.
Written by:
LoboWolf aka
Don Dade
10/02/2003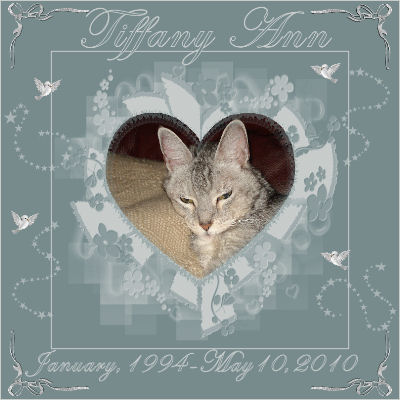 I carry you with me, in my heart
even though I have traveled on ahead
to a distant shore. You are with me.
Your smile lights my path, guiding my
steps.
You have always been my joy, a love
that was truly mine, a forever love.
I carry your voice in my soul.
Speaking to me of memories,
of what was, will always be.
I carry your touch with me,
wrapped around me like one
of your warm embraces.
I feel your caress and treasure
these moments.
We are one, meant to be.
You are the peace in my dreams
that reunites us to dance among
the stars.
One day you will follow, I know it is hard
waiting for that moment. It is never
easy to wait for what you
wish with all your heart.
Remember for me that one
day we will be as one again
forever and always
© BarTendersBluesWolf
Aka J.C. Stewart
December, 2010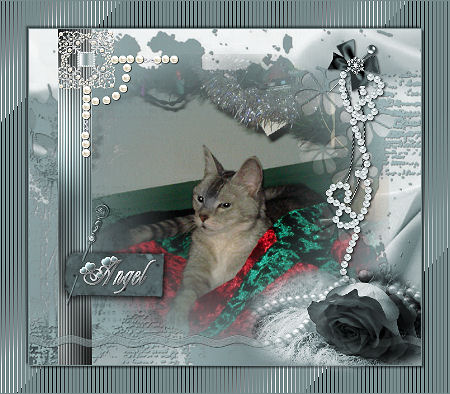 In the quiet corners of my life I feel you
Always hovering - always near
There, but not there, just out of my view
A comfortable companion
  I've noticed you for a while and wondered
Were you cause for fear or hope
I've wondered if my thoughts were heard
Or if you were aware of me at all
  Are you my memories lingering to haunt me
With wishes I cannot make true
Are you Time standing there just to taunt me
Echoes of the past and the future
  With the passage of time as I begin to heal
And memories become warm and sweet
I realize that you are my lost one's love I feel
Bidding me hope as they watch over me.
  In the quiet corners of my life I feel you
Always hovering - always near
There, but not there, just out of my view
A comfortable companion
Loving, watching, caring
© Candace
10.13.05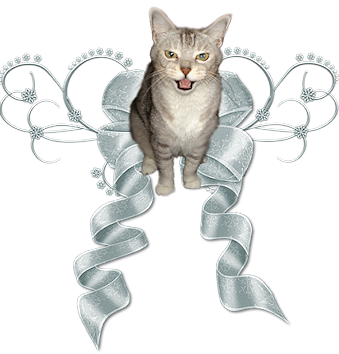 Light a candle in Tiffany Ann's memory, for a sick, abused, or special needs furbaby, or perhaps just someone who needs a prayer and a candle lit.