My Dearest Mandi Pandi,
Every beginning is the beginning of an end.
I remember the night you entered my life. You were only 4 weeks old. You were so young but yet so strong. You were so full of energy and so full of love.

From the moment you entered your forever home you made it very clear that as long as you had a ball to play with and water to play in then you were happy. When I think back to all the silly things you did I can't help but smile. You would climb into your water bowl, you would try and climb into the toilet; you were always jumping into the bathtub and shower. Your favorite game was putting your squeaky balls in whatever water you could find and then squeaking them so they filled up with water and then squeaking them again so the water would squirt out. You would play for hours you would swim for hours. I remember your hair turning green from all the swimming you'd do. How you loved the water.

You were so adventurous and wanted to be included in everything. You were so independent but yet always had to be the center of attention. We went so many places together. The beach, the snow, hiking, camping, you just enjoyed everything. Of course I would never forget to bring your squeaky balls.


I'm not sure where the time went but before I knew it you were turning 3 then 5 then 8 yet you still acted like a puppy… years kept flying by and then you were 10 then 11. You began slowing down and I remember looking at you one day and thinking you're not a baby anymore.

You were 12 years old when Rocki passed away. Our family was destroyed. You my baby girl grieved so hard for so long. I thought I was going to lose you to a broken heart. Once again you showed your strength. Rocki took a part of both of us with him and I did not want to go on. I had no choice. You my baby Mandi were the only reason to go on. You needed me but far more than that I needed you. Mandi, you were there for me every second of every day. Together we grieved and struggled. You kept me going. It was just you and me now and we slowly adjusted to our new way of life.

Then the dreaded day came, you were diagnosed with Degenerative Mylopathy. How was this possible? To watch you wither away was one of the hardest things to do. There was nothing I could do to save you. Nothing! I tried my baby if there was a cure you would have had it. Month after month your body was slowly giving up but your mind wasn't. You fought and fought. You were fighting so hard unfortunately it was a battle you were not going win.


I remember the night that you had to leave my life. You were 15 ˝ years old. You were so old and sick but yet still so strong and still so full of love. I ask myself why??? The truth is I may never know for sure why, but I do know that there is not a single "should have done" or "could have done", not a single "did" or "didn't do" that would have changed why…All that love could do was done.

I hope you know I did everything I could.
Mandi, you gave me 15 ˝ years of unconditional love. You were right there by my side, through the happiest times and the most difficult times of my life. You taught me the meaning of strength. You taught me how to have hope and faith. You taught me the meaning of true love. I will forever be grateful to you. Thank you from the bottom of my heart.


I sit here empty and lonely, dreading each day, but I know that setting you free was the only way to make you healthy again. Our time will come. We will be together again and we will never part. Until then …fly high baby girl.

You and Rocki will forever be a part of me. You are both my angels above now. Watching over me and guiding me every step of the way. The hole in my heart will remain until we are all reunited.

With all my love,
Your FOREVER Mommy
On the wings of a dove I sailed,
I was soaring across the sky,
I reached out and touched a rainbow,
I glimpsed as I passed by,
Believe and know I'm safe once more,
For in Gran's arms, I gently rest,
She's holding us both in her loving way,
Like a cozy little nest.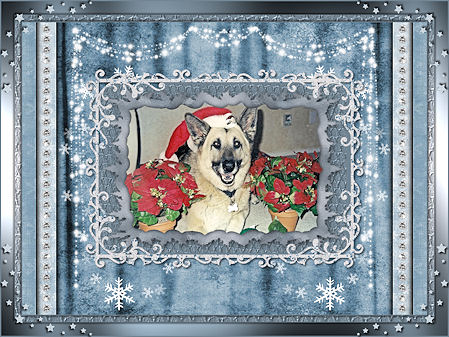 Light a candle in Mandi's memory, for a sick, abused, or special needs furbaby, or perhaps just someone who needs a prayer and a candle lit.