When the waves of Sorrow lap at your feet,
And they work up to your heart.
Silver hued tears run down your cheeks,
And naught but sadness does impart.
Think of this place called Rainbow's Bridge,
And the wondrous glory there.
A silent shadow looks down from a ridge,
And stands on edge your hair.
What is this wondrous graceful sound I hear,
That whispers to me on the breeze?
It is a sound that whispers peace,
And fills my heart with ease.
Is this my love that comes to me,
And whispers on the breeze?
It seems to say feel not guilt,
Listen to my whispers please.
Daddy, mommy, I Love You,
Forever and one day.
In your heart feel not blue,
Just listen to what I say.
I speak to you with sounds of love,
From high upon this ridge.
I wait for you to come above,
I'm happy at Rainbow Bridge.
Written by ©LoboWolf
aka Don Dade
10/03.2003

In the secret reaches deep with in where dwells the kindred spirit
That which links us to all and all to us, where we cannot to our self lie
Here does it ever dwell – the loss, - the sorrow – the longing
Locked in our inner heart wanting only to never say good-bye
I smile as I breathe in the beauty and joy of the sunrise
As I face each new day and feel the warmth of the light
But within where I must face the truth I feel emptiness
Your absence fills my inner heart with cold, grey night
I cling to the thread that twines our souls with hidden tears
Knowing that the bond can not be broken or lost
And I treasure always all the love and light we shared
And gladly pay in sorrow what our love does cost
So kindred spirits seek each other, seeing the one within
Finding solace on the long path of sorrow and tears
Fellow travelers finding comfort in kindred spirits
Who understand that love is never measured in years
© Candace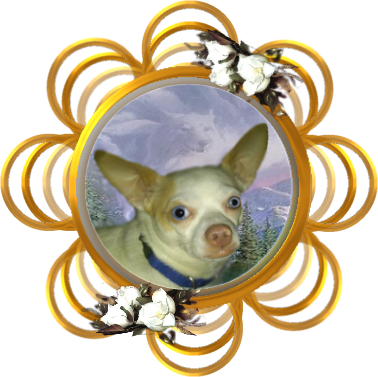 Each moment I stop and smile
As thoughts of you drift on angel's wings
Through my mind
Joy filled memories dancing on the sun beams
Each one more precious because of you
I see you clearly, eyes aglow with happines and love
Each moment is engraved on my heart
Mama and Papa I did come home with you
Where ever you are I am there
Home to me is your heart
I feel your love so strongly
You give me more love in one touch, in one prayer
Then many know in a lifetime
I still feel your hugs and gentle touches
Feel my touch in the gentle breeze that caresses your face
I am ok Mama and Papa, thank you for helping me
Find freedom from pain
I am at the bridge watching over you and loving you
Now is time for you to heal
Know you are the best Mama and Papa anyone could have
I send you kisses and hugs on the wind till the day of reunion
Love always and forever
Is never good-bye, but till we meet again never to be parted
Till we meet again Mama and Papa
I am always near

© J.C. Stewart aka
BarTendersBluesWolf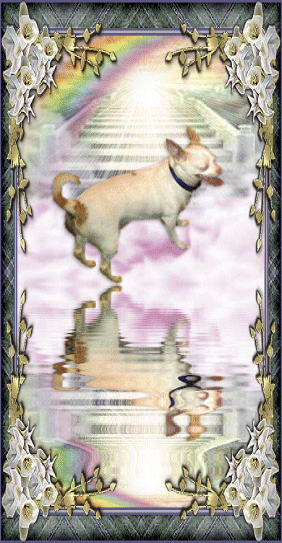 When we first looked into each others eyes
We knew we have traveled this path together
before and we were meant to be as one again
Even though I can't see you I still feel you near.
Though I do see your face in the sunshine as it
warms my face, I see you in the gentleness of a
Fathers words of comfort. I feel you purr near
my heart in the darkness of the night. You
reach out when my thoughts turn to sadness and
you show me you are always near. I feel your
caress in the wind it is your way of saying I am
whole again and flying on wings of gold and silver.
Your image in my heart grows stronger
with each day and never fades. How could I ever
forget the one whose eyes hold the wisdom of the ages.
Whose voice says I am yours and you
are mine. Together we will always walk this path
together, our forms may change , but our hearts
and love remain the same. That will never change.
Others join us on our path and will walk
forever by our side as family of our heart. They
are with us now, forever and a day
They alone understand the journey we are on
and are ready to join us. Reach out to them as
you do to me and you will find the
comfort in the unity you will find with them.
Remember I am never gone from you, we are
one forever. Let the others warm your heart and
soul as you have warmed mine,
let them know the kindness of your words
They will help bring out in you
what I have always known was there.
One can have many soulmates.
Our journey has just begun.

©J.C. Stewart Aka
BarTendersBluesWolf.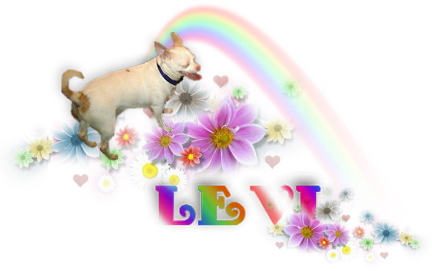 Light a candle in Levi's memory, for a sick, abused, or special needs furbaby, or perhaps just someone who needs a prayer and a candle lit.