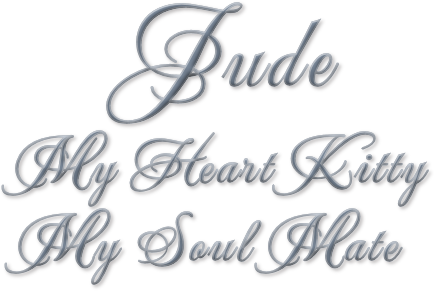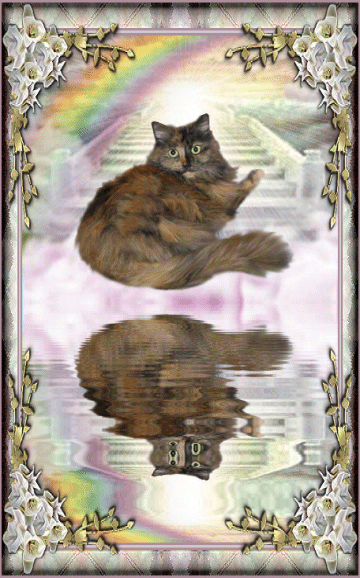 My darling Jude, I am about to embark on something that I have never done before and that is to pay tribute to you in the form of a memorial site on the internet. this is a first for me and I am sure that I will stumble and fall a few times here. all I know with all of my heart is that I want to do you justice.

I do not want this to be a lament of a sad and lonely human missing her dear companion. what I want it to be is a celebration of your life with me and pay tribute to the beautiful soul that I came to know as my furry friend, jude.

I have to say that in the beginning you were a challenge. I remember so very well your days as an adult stray baby for a very long 6 months. I tried and tried to make you trust me but you weren't ready yet to let me in your life. I knew that you would have to come to me in your own way and in your own time. even when I was on my hands and knees singing to you, 'hey Jude don't make it bad. take a sad song and make it better' you weren't about to budge from underneath the car you were hiding under. I made sure you had shelter in my garage and plenty of food and water and for awhile that was the best I could do.

Then that miraculous day came the Saturday before Christmas 1995. I came home from Christmas shopping and also had stopped and bought quite a bit of canned cat food. you were standing by the garage door even though it was open. it was if you were waiting for me. I can still picture that in my mind. you actually came into the garage with me for the very first time without the safety net of my car to hide under. you were very eager to eat the canned food I opened up for you and I was actually able to pet you! I was in heaven but felt so badly that this was the first kind physical human contact you had received for over 1/2 year. The next thing I knew, you were in my cat carrier being brought inside. I FINALLY HAD JUDE!

Right from the start I knew you were going to be special. you were love starved and I couldn't stay away from you. we grew together so well over the 14yrs 3 months that we were together. you became my #1 princess, my heart kitty and my soul mate. I always felt like we were cut off of the same piece of wood with the two separate pieces fitting perfectly together. we formed a bond Jude-an unbreakable bond that will last for an eternity. you became 'mama's girl'.

You fit very well into our family as if you were the missing piece. your 2 brothers learn to accept and love you as you did them. and all the other kitties that came after you knew that you were the female boss kitty. you made sure of that.


Everyone who met you was enchanted not only with your beauty but also with your grace, charm and impeccable manners. you always reminded me of Audrey Hepburn in my fair lady. and as I always told you Jude, you were every bit as beautiful on the inside as you were out.

When I listen to your song I always felt that it was about you but then I realized it was about us. the words and phrases could be interchanged to reflect what both of us needed..............'you were made to go out and get her', the minute you let her into your heart then you can start to make it better'. yes Jude, that song spoke for and to both of us.

You gave me all of your heart when you were with me and I shall carry that love with me forever. you also taught me many things in life such as........

-The joy of waking up in the morning and seeing my little darling there to greet me with a smile and a head butt.

-The joys and thrills of kitty spontaneous combustion of running through the house and jumping up on the window screen and hanging there like a bat. heck-if it feels good at the moment just do it was your motto. and that could be anything from giving your mom gooky eyes and then an Eskimo kiss or running around the house just enjoying being able to do so.

-If someone is in your way and not moving and giving you what you want, just go ahead and bite them in the ear (as you have done to your two brothers). hey, it works.

-The joy of enjoying toys and making them your babies which were moved anywhere you deemed it necessary. I will never forget the morning I got out of bed and walked into the bathroom to see that you had unrolled a lot of toilet paper into a nice soft pillow in which you placed 5 of your 'babies'. you were sitting by them and showing me what a good mama you are. you were so proud of yourself and I was of you.

Those are just a small portion of the funny and endearing lessons you gave and taught to me. but I would have to say that the most enjoyable and valuable one of all was the joy, understanding, accepting and the 'it just feels right' comfort that only a 'forever and beyond' friendship can bring. you have touched my heart in ways that no other has and I am forever grateful that you graced my life.


I know that you took a piece of my heart with you when you made your journey to the bridge but that is alright. for there is no one I would entrust that with more than I would you. I know you will take good care of it until that joyous day comes when you greet me at the bridge and return it. then we can once again continue our journey together hand in hand never to be parted again. I love you Jude more and more each day sweetheart. you were my Christmas gift from above that year in 1995 and the best gift I ever or will ever receive.

In closing Jude I hope that I have paid you justice and may I ask a favor? would you please permit me the privilege of one last time singing softly into your ears your favorite part from our favorite song...............

'nah........nah, nah, nah, nah, nah, nah. nah, nah, nah, nah...................Hey Jude...............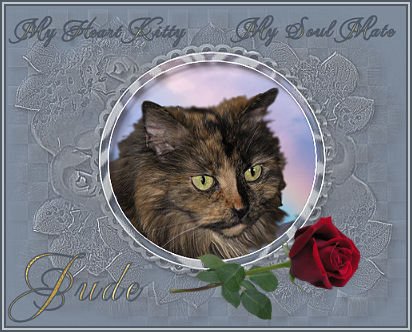 Light a candle in jude's memory, for a sick, abused, or special needs furbaby, or perhaps just someone who needs a prayer and a candle lit.