I look into the mirror with red-rimmed eyes
And see pain filled eyes looking back at me,
The pain in my soul and a deep sense of loss
Color my perception of the person that I see.
Slowly vision shifts and I see someone else,
The person that I was before we ever met.
And as I watch over time I see the changes,
Gifts that your presence and love did beget.
And I feel a soothing touch brush me lightly,
And I feel a calming warmth touch my soul,
And I see there looking back in the mirror,
The parts of you in me that make me whole.
As long as I am here your light will go on,
The parts that are you are the best parts of me.
I know in my heart I am better for you love,
I know who you are has set my spirit free.
The vessel that had held your light is shattered.
You have traveled ahead, your tasks here done.
For now you watch over and guide me with love,
Until the day we travel on forever more as one.
©Candace 6/1/07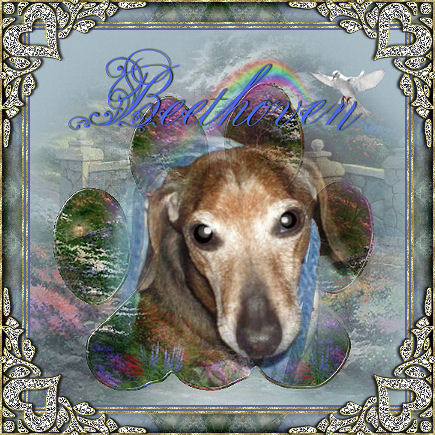 Ebbing tides of sorrow break,
Over those who will seek but ease.
The hearts and souls and minds that ache,
Waiting for the wind called peace.
The love that came from up above,
Was sent with them to us to teach.
Mission complete, took back his loves,
Now we wait for the wind of peace.
They brought His word to us to learn,
Now they fly on wings of iridescent hue,
A silverwolf was sent to me,
Who now flies with wings of blue.
So learn you well the word of love,
Even tho when gone you feel no ease.
When he takes them back above,
And leaves you searching for
the wind called peace.
Written by:
© LoboWolf aka
Don Dade
10/02/2003

Light a candle in Beethoven's memory, for a sick, abused, or special needs furbaby, or perhaps just someone who needs a prayer and a candle lit.