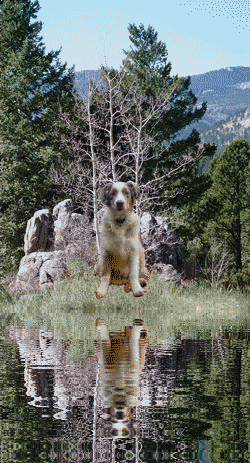 Duke came into the world 5/14/2006. He was born out on a farm about 20 miles from our house. Our son Nick was graduating and really wanted a puppy. He went out to take a look and fell immediately in love. I had several voicemails when I got off work to come see this pup..."I named him Duke Mom". What a precious baby he was. Nick went out to see him twice a day everyday. My husband, myself and our daughter went out often too, but not like Nick! Finally Duke came home, and home it was from that moment, he got along so well with our older dog Ruby. Ruby loved him so much. In the process of getting properly vaccinated we grandparents babysat a lot as Nick was working long hours. So did Nana and Papa, who fell madly in love with a baby girl while visiting Duke. She came to be Emma. Brother and sister were very close and Nana and Papa ran the doggy daycare.
~~*~~





In December of that year Nick moved out of our home. Well when he took Duke, it was awful. We went through Duke withdrawls. We did miss Nick too, but, well you know! Nick was kind enough to grant us puppy visitation. We picked him up on Tuesdays and returned him on Thursdays, sometimes sooner if Nick was missing him too bad. In the spring of 2007 Tucker was born, many more trips out to the county to visit our new baby! Nick was thrilled as he once again got to keep his dog full time. They were so close.

~~*~~





Those formative years were never forgotten by any of us or Duke. When we would come to visit he would be so happy to see us. He was very vocal, not barking, but so overjoyed that he would almost whine and love on us like crazy. When he would come visit us here he would run half way down our driveway, barking, nose to the ground. This habit started at a very young age.

~~*~~





Duke

The head tilt-You know how every so often you will talk to your dog and they tilt their head...Duke did it constantly! It wasn't a fluke, it was just part of his personality.

The hand game-He would jump so high at a outstretched hand...he flew

Happy guy-He was always happy, life was good for him. Happy to see you in the morning, his whole body would shake with sheer joy.

Gentle-When he would get up on the bed, he would always be so careful. Walking gently, cuddling gently. Another example of what a sweet boy he was! So considerate!

Racer-He would race his Dad everyday when he got home from work. Nick works right next to his house, he would come home everyday for lunch to see him too. Duke would race from the back fence, where he waited so patiently for Nick to return, to the back door. One time Nick had put a car that he was working on in the back beside the house. That day Duke took off full bore as usual, never taking his eyes off Nick, slammed into that Mazda so hard!! Thankfully wasn't hurt, just surprised. Nick said that it was so funny.

Camper-He was a camping dog, as Nick took him everywhere. Many times we would go to the coast as we have dirt bikes and quads. One time I was on my quad ready to go out on the dunes, Duke jumped up on my lap! Unfortunately I couldn't take him, it wouldn't have been safe. Sometimes he slept in the motor home with grandma and grandpa, but most of the time he was in the tent with his Dad, Britney, and Eighty his sis.

Manners-The most polite dog I have ever seen. Nick was so good with him. He was trained so well, loved so much.


~~*~~





Forever True

Others look at you and I know what they see,
A small bundle of fur, something to possess,
One more task to be done in a too busy day,
Needing attention – and it may make a mess.

But there is so much there that they never see,
Rare precious moments that one cannot plan,
Wealth that's beyond mere silver or gold,
Or the greatest treasure they hold in their hand

From the first moment your love knew no limit,
You filled my heart with joy they can't understand,
And my life is much richer because you are in it,
We share a special bond they cannot comprehend.

You know my heart and soul as has no other,
Content to share in my joy and happiness,
When my world is all wrong you stay by me
And let me know the darkness won't last.

And when it happens, heaven calls you home,
While my tears fall and my heart aches for you
I'll also remember all we have shared, and know
My angel's with me with a love forever true.

© Candace



~~*~~





Dear Daddy,

I'm so sorry I scared Grandma Kelly and that I made you all cry. I know you and Brit were away – busy as you should have been, but the angel told me I needed to come with her, she said it was time. The nice lady across the street tried to find me and Eighty, but she wasn't allowed to.

I wanted so badly to kiss you one last time as you held my body in that blanket – I was there, the angel let me watch you for a bit – to be sure you were okay. And the angel protected me Daddy – she took any pain and fear from me. I did cry, after – but I cried because I had caused so much pain.

I was sooooo very proud of you Daddy, sharing my ashes with the rest, but I always knew your heart was good. And it's very big Daddy, if you want to get another puppy from where I came from – or from anywhere – that is wonderful to me. I know your love for me will always be mine, but I also know that there is so much more love and room in your heart.

It was good seeing Grandma Kelly spend so much time with you – wow, did she have a lot of pictures of me! And so much to say about me . . . . .that made me feel so important!

The angel took me to a beautiful place with a lovely pond where I can see you whenever I want, and I am gonna learn how to visit you. There are lots of others here too, and everyone is healthy and happy and gets along. They say we stay here until it is time to be with you again – and that then we will be together for always.

Please don't be sad – I am never really farther away than your heart.

Love,
Duke



~~*~~





Light a candle in memory of Duke, for all those hurt or lost, for a sick, abused, or special needs furbaby, or perhaps just someone who needs a prayer and a candle lit.