Evergreen
By Barbara Streisand





&nbsp
&nbsp
&nbsp
&nbsp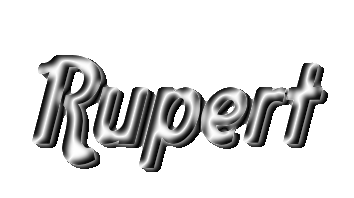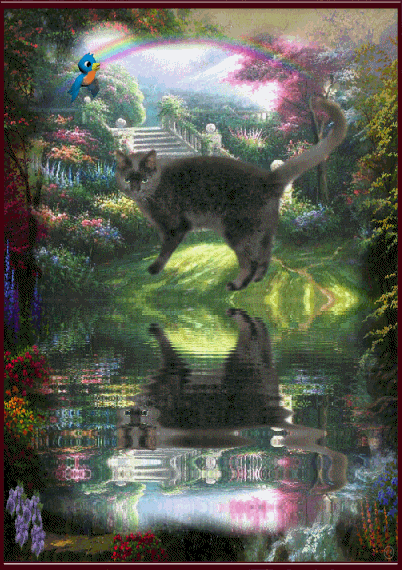 Rupert 25 November 1992 - 28 January 2008
I miss you so much
I miss your soft cuddles in the morning when you came in for a cuddle
your nurses at night
our 'conversations'
your sleeping on the bed at night
your helping making the bed and hiding under the blankets
our lunches outside on the swing set outside.
Lunchtime has never been the same
for the last six months
you running up to me when I got home from work
poking you head out of the greenhouse when I was
hanging out washing and
'talking' to me
your gooey looks reserved only for me
your company especially when I was unwell
our rubbing sessions and your nip when you had enough
head-butting me when I didn't acknowledge your presence
anging the key at the back door to go out because
you didn't want to use cat door
you on sandwich making night when you would be
waiting for titbits
I miss your tricks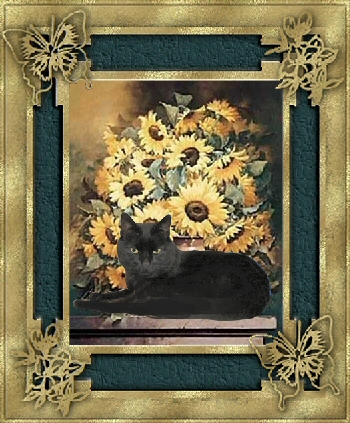 chasing your tail
getting out of the locked cat door
howling after raw meat
bringing your toy mouse into me at night, carrying it
all the way from the
bedroom where you kept it
sniffing your sisters bottom and having her hiss and
spit at you
putting your claws into my clothes when I got up in
the middle of our nurse
I miss you down by the fire sitting next to your sister and
there are so many other things I miss about you. Your sister
cried for two weeks when you left. There have been a couple
of stray cats hanging around the yard since you are not
there to guard it. Your Minnie doesn't go outside anymore. I
am so sorry I couldn't save you but in the end I always knew
you were going to leave me. I hope you forgive me. Losing
you took a piece of my heart and soul. I am sure you spirit
is around me but I wish I would get a sign of your presence.
Please know how much I love you and each day here is one day
closer to my hopefully seeing you again.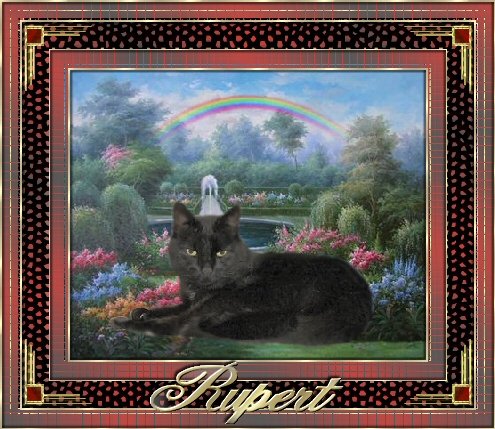 When you passed I wanted to go with you as I knew you were
afraid of strangers but my kids needed me here. I hope you
have found your sisters Frisky and Daisy. You always
thought Frisky was you Mum. I talk to your photos every day.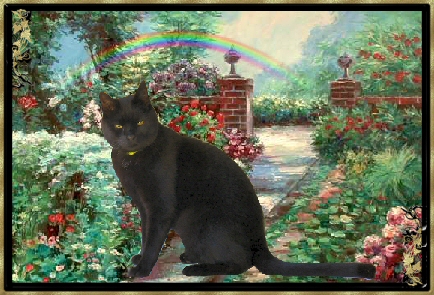 You were my perfect little black boy who gave me
unconditional love and my heart will never know the joy of
your love again. When you died on my arms I thought my heart
would break and I will never be the same. The pain of your
loss is still so raw.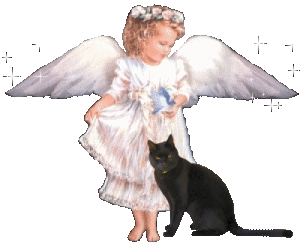 Rest in peace my beautiful boy
Your loving Mum
I hope you love your memorial garden when spring comes.
It is in a wooden trough just like you loved to sleep in.
I hope this is suitable to use. I am finding it really
hard to do. I cant see for the tears ar the moment.
Thanks a million Lynley.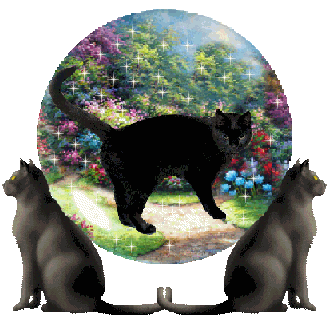 It has been six months now since my beautiful boy Rupert left me. I miss you more than I did when you first passed. It seems so long since I cuddled you. I miss your soft fur and wonderful companionship. I knew losing you would be hard but this has been hell. I love you so much and I hope there is a Rainbow Bridge where one day we will meet. I have a hole in my heart and I know I will never have another cat like you. You were so loving and I know you tried so hard to stay with me but someone had other plans for you. I wish it hadn't been that way.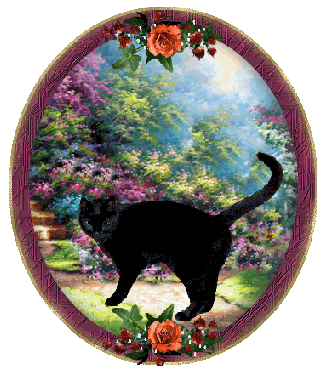 I hope you like the memorial garden I made for you. In the spring it will flower with tulips, daffodils and hyacinths. It is in the wooden troughs you loved to lay in, sunning yourself. I couldn't bear to be home today so my friend took me for lunch and when I came home I looked at the side fence hoping that you are up there waiting for me. But no such luck. I talk to your photo every day. I say goodbye when I go out and at nighttime.

I believe your spirit is around me and your sister. I know she misses you too. I never thought that would happen. Minnie has decided I belong to her now. I believe she was jealous of you as she has a nice personality now

Love you forever my beautiful boy. Mum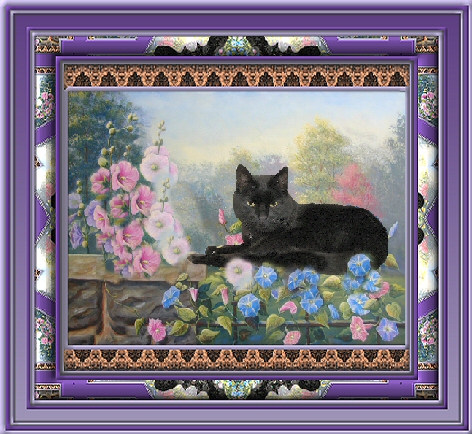 JUST INSIDE THE GATES OF HEAVEN
IS A BRIDGE BUILT FROM LOVE
CALLED RAINBOW BRIDGE
IT GLOWS WITH THE UNITY OF PEACE
IT SPANS A RIVER OF THE BLUEST BLUE
NO ONE IS ALONE THERE
THE ONES WHO WENT BEFORE YOU
WILL KNOW YOU ARE BEING LIFTED
ON THE WINDS OF PEACE
THEY WILL BE THERE TO GREET YOU
THEY WILL BE LEAD BY THE
GREAT AND WISE SILVERWOLF
THE SILVERWOLF WILL KEEP
MY HEART NEAR TO YOU
HE WILL HOLD YOU CLOSE TILL I CAN
WILL SHOW YOU FREEDOM FROM PAIN
YOU WILL FIND AT THE BRIDGE
LISTEN TO HIS GENTLE WISDOM
THE STAR WHO WAITS
WILL TELL THE ONE WHO CARES
THAT YOU ARE SAFE AND WITH HIM
I HEAR A GENTLE PURR BY MY EAR AT NIGHT
A HOWL IN THE WIND
SILKY FUR AGAINST MY SKIN
YOUR EYES LOOKING BACK
AT ME FROM THE STARS
A WHISPERED I LOVE YOU
ALWAYS FELT
ALWAYS HEARD
ALWAYS SEEN WITH THE
EYES OF MY HEART
TOGETHER FOREVER
SOMETHINGS MAY CHANGE
LOVE REMAINS EVER STRONG

ęBarTendersBluesWolf~November 28, 2005.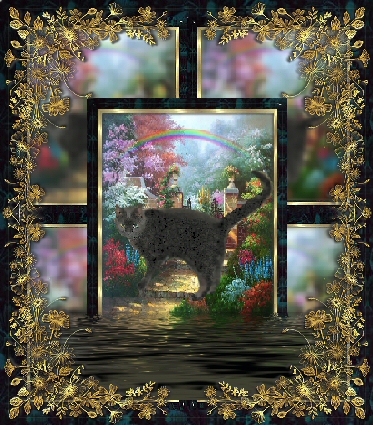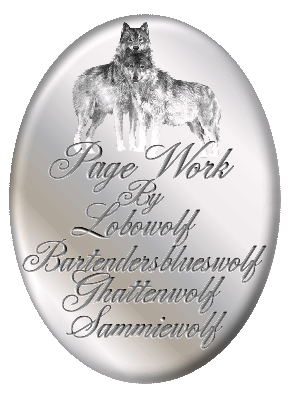 Rupert's Page Two
This pagework is the sole ownership of petsupports.com and cannot be used without permission of said owner.
If we have used something owned by someone else, please inform and we will give due credit or remove.