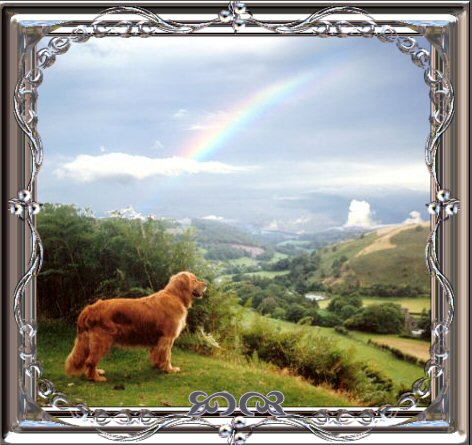 "To live in the hearts of those we leave behind is not to die
~~THOMAS CAMPBELL~~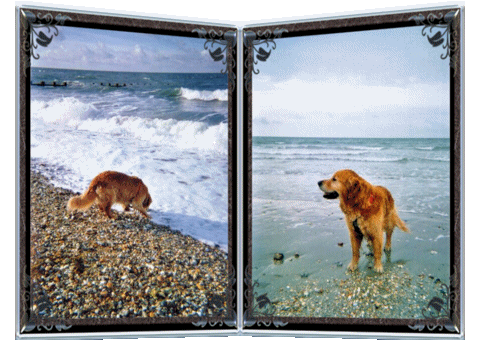 In loving memory of my Rowan dog

In the spring of 1996 I decided that I wanted to get the golden retriever that I had always wanted.
Rowan was born on the 29th May, there were nine puppies in the litter, eight boys and a girl. I went to visit the breeder in the days following and I was shown one of the pups which almost fitted into the palm of the breeders hand.
I visited the pups at regular intervals and when they were six weeks old, I was allowed to choose one.
A difficult decision to say the least, so many gorgeous pups and apart from the bitch I could pick whichever one I wanted.
I had hoped that one of the pups would choose me, but they were having fun playing rough and tumble with each other, eventually I picked one almost at random and the breeders took him off to trim the fur at the end of the tail to distinguish him from the others.
However, meantime another pup came and sat right in front of me, when I saw him sitting there looking up at me so intently, I picked him up and he put his front paws around my arm and that was it, I called out to the breeders 'I've changed my mind, I'd like this one please'.





I didn't have a name at that stage, but I knew that I wanted something different to the ones that had been suggested to me.
I came across the name Rowan and when I looked it up I discovered that it's meaning was 'little red one'. Although he was cream at this point, the breeder said that he would probably end up the same colour as his ears which were ginger, so Rowan he was..
I brought him home when he was seven weeks old, he looked so adorable, I was thrilled to own him, but I had little idea what a close bond we would form over the years.
I was so nervous to begin with, I had had a fear of dogs since childhood, but I was determined that I would get over this and I did...with Rowan's help.
Before he was vaccinated I regularly took him out in the car and consequently he absolutely loved cars and traveling, we would be walking down the street and someone would only need to park up and open the door and he would be so eager to get in, it didn't matter who's car it was, or, whether it was going anywhere, he would get in if at all possible!

~~*~~





I spent a lot of time training Rowan, he certainly had a mind of his own and was very intelligent. I took him to puppy classes and dog training classes, he was very mischievous, which I loved even if the trainers didn't! One skill he never did get to grips with though was to drop what he had retrieved. The year that I got him I had grown sweet corn in the garden, Rowan took to biting these off one by one as they were ripening, he refused to let go of them (even for a biscuit) and from then on, trying to get him to drop anything was pointless,, keeping things clenched in his mouth was much more fun! This trait never left him, very rarely would he drop his toys. I would play football with him most days with a small football, (well, it was more like rugby actually), he would tackle me for the ball and when he eventually got it, he would run off repeatedly making a noise through his nose as if to say....'yes, yes, yes, I've got it!'
I was still living with my parents when I first got Rowan, they loved him dearly. Rowan learnt fairly early on that my dad was a good supplier of biscuits and games, he was very sad when my father passed away and grieved for him.





We spent a lot of time together, we walked for hours, our favorite was Richmond park. Rowan being true to his breed adored water, puddles, lakes and streams, but especially bogs, they were utterly delightful, much to my horror! Quite often he would stand at the edge of a bog and just give me this look, I would say No Rowan! No, No, No No! but then he would give me a final look of glee and jump.....ugh...brown sludge all over, he loved every minute.
I'm sure that he could smell water a mile away , he would run ahead and I would find him laying in the water relishing every moment. This was his idea of heaven and he would lay there for as long as possible, even if there was ice floating around in it, sometimes he would just sit down in the water, as if on dry ground, he often amused passers by with his antics.





However, he was not so impressed the day that we got caught in a mini- tornado!
I had turned back from our walk as the sky looked so stormy, it followed us, but as we got to the front door the tornado hit the field opposite. It was impossible to open the front door with the force, then the rain hit us, it was as if someone had poured buckets of water over us. We eventually managed to get indoors, but I will never forget Rowan's face, he looked so stunned, it was one thing having a leisurely dip, but that was an experience that he quite obviously did not want to repeat.
We both loved being outside, we were lucky that we had a large park just opposite and we went out regardless of the weather. Rowan would look at me pleadingly while we were out to sit down with him, come rain, hail, or snow, And, it was always too early to come home, he was just like a child, he always managed to find something that he just had to do, a hole/crater he had to dig and he would get so occupied with it that he conveniently went deaf to my calls.
Chewing sticks was a frequent and adored pastime of Rowan's, he would never swallow any, and was very meticulous about disposing the chewed up pieces in a neat pile beside him.





Rowan was a very dignified dog, he would sit down in the park and look around as if he owned it and was surveying his land, people often said to me that they could imagine him with spectacles and an encyclopedia!


~~*~~





Rowan was often getting himself into sticky situations!
There was the time he decided that he would like to play with a stag, he simply could not understand why it did not want to play with him! Then, there was the time he invited himself to a silver service tea-party having just jumped out of the lake! And the time he jumped in and out of the Thames two or three times in succession and then dived in between a couple laying down on the grass together....luckily, they found it very amusing!





I entered Rowan into lots of dog shows...for fun, he won quite a few rosettes and loved the excitement. However, the time came when he didn't want to participate anymore.
I had entered him into a show, but he became difficult to handle and pulled with all his force, and when he decided to move...he moved, his weight seemed to double in strength. We ended up back at the edge of the ring where the family were situated and he just laid down quite happily watching the other dogs parade around the ring...I could do nothing but laugh, he certainly knew what he wanted.
That was our last dog show!





After I moved into my own flat Rowan used to go for sleepovers with my mum, which he loved, one of his favorite pastimes was chasing squirrels and there were plenty of those about in her garden. I would tell Rowan that Grandma was coming over to fetch him; he knew the difference between his car straps and walking straps. If I got hold of his car straps he would jump up and down with so much excitement and then he would wait patiently by the door until she arrived.





Rowan was a very gentle dog, his favorite toy was tigger and he carried him like a pup, licked him clean regularly, and he even gave him a jolly good shake now and then as if to keep him in order!
Tigger went everywhere with him, even on holiday.
Rowan never tore his toys, each one was looked after lovingly and when someone arrived at my flat, he would eagerly pick up not one toy, but he would manage to get about three in his mouth to go and greet them with.





Rowan was a gorgeous dog, everyone that met him fell in love with him and remarked what a wonderful character he had, his gentleness really stood out, a few people even asked if I would consider selling him....AS IF!
We had some lovely holidays together, mostly we went to the Isle of Wight, he was always the first thing to go into the car, he was very perceptive and always knew if something different was going on.





Rowan loved ice cream, it was awesome as far as he was concerned, this was a holiday treat of his.





We went for many long walks around the Needles, Allum bay and Totland bay. One time we went slightly off track and we ended up in a field of what appeared to be super sized cow pats, there was no stopping him, he definitely had a case of sudden selective hearing, he ran from one to the other, rolling in every single one. No longer did I have a golden dog, but a greeny-brown one, and did he stink!
We eventually made it to our destination, but we had to walk right through the amusement park and, oh boy, did we get some looks!


~~*~~





The sea was an unpredictable entity as far as Rowan was concerned, sometimes he loved it and other times he was very wary. I went for a swim in it one day, leaving him happily laying on the sand watching the time pass by. The next thing I knew he was in the water, he seemed to think that I was in trouble and that he needed to save me, I ended up black and blue with his determination, but as always he was there for me, no matter what.
Rowan had an extremely stoic nature, very rarely did his health problems stop him from enjoying life. In his senior years when he developed colitis he remained the dignified dog that he had always been.
Rowan kept young for a long time, but suddenly old age seemed to catch up on him
In his 11th year Rowan gradually began to lose his sight, eventually he went blind, as always he showed remarkable courage, and It only took him about a week to adjust.
We had played hide and seek with his toys for many years and he continued to show enthusiasm for this game right until the end of his life, he definitely got something out of life, each and every day.





Being totally dependant on me the bond between us grew even stronger.
We spent a lot of time together during the summer of 2007, I had the feeling that it would be Rowan's last summer, the weather kept fine and we spent a great deal of time outdoors.
Rowan had always loved having his picture taken, even when he went blind, I would tell him that I was taking it, tell him to pose, and he would. He often fooled people into thinking that he could see.


~~*~~





The onset of arthritis gradually slowed him down, but he still loved his walks and games, and he carried on regardless.
At the end of May 2008, there was a sudden deterioration, he had great difficulty getting up, he was given medication, but it made little difference. After a short while Rowan made it clear to me that it was time he moved on and on 3rd June I decided to have Rowan put to sleep.
Due to his allergies and colitis Rowan's diet gradually became more restrictive, so I decided that I wanted him to have something special before he went. I gave him a piece of steak, a bowl of ice-cream and lots of biscuits, I'm glad that he was able to enjoy his feast, he loved it!
Rowan was put to sleep at home, I comforted him throughout, it was the hardest decision I have ever made, but I loved him dearly and it was the kindest thing that I could do.


~~*~~





I struggle to find words to describe what I had with Rowan, how do you define that deep bond... it grew deeper than I could ever have imagined, he was so special to me. I feel so privileged to have been able to share my life with him, he was an amazing character and full of love, acceptance, commitment and understanding, he would have protected me with his life.

Rest in peace Rowan, love you always and thank you.
(c) Alison, Rowan's Mommy

~~*~~





~*~ ~*~





Light a candle in Rowan's memory, for a sick, abused, or special needs furbaby, or perhaps just someone who needs a prayer and a candle lit.