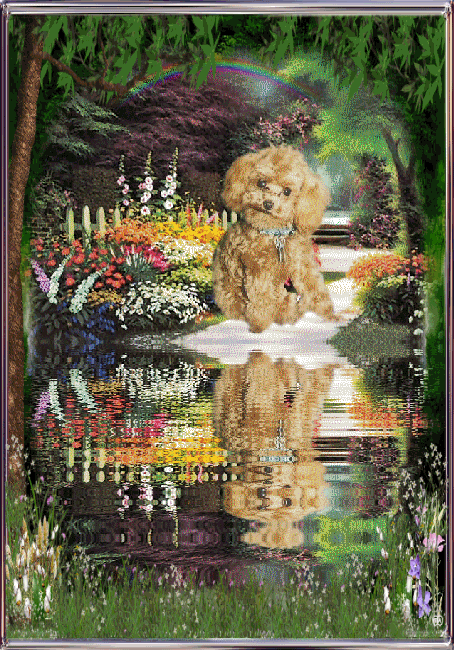 In loving memory of my dearest Prince whom I loved so very much.
He came into my life in 1995 remembering him as the most precious
fluffy apricot puppy I've ever seen weighing only 2.5 lbs at 4 months old.
I brought him home in my arms while all my neighbors thought he was
a stuffed animal. He was definitely one of a kind!
For all the years that I've had him, he just loved the attention that I
gave him and always wanted to play with all of his 30 toys that he
had in a basket knowing each of them by name. He was incredible!!!
Even though he had medical issues throughout most of his life,
he always came out looking like a trooper and a charm!!!
When Prince was about 4-5 years of age, I would take him to work
with me as he just loved the word "work" and he was ready to go.
He would lie next to my desk, watch me work and for the most part
was a good boy. The first seven years of his life, I would register him
to enter a Pooch Parade held annually and he would just enjoy
barking at all the other dogs. Prince always had to have something
different to wear for every event. Prince had a full wardrobe of clothes
and sweaters and always ready to go somewhere. I took him to the
coast one time where he was encountered by a wave at the beach but
ran like the dickens to avoid getting wet. His first plane ride was to
Denver, Co where he sat in his carrier right underneath my seat.
At the age of 8 years, Prince was starting to get a little bit of an attitude
and at the age of 11, he developed diabetes but that didn't stop him.
he was still a little fire cracker!!! During the Christmas holidays were
always fun for Prince because his picture would be included in my
Christmas cards. Prince was rather proud to be photogenic!
Prince will always be in my heart and in my thoughts for he gave me
his unconditional love no matter what. I am so thankful to have had
these wonderful memories with Prince. I will miss him so very much!


Heavenly Father, please open your gates
And call St. Francis to come escort my
beloved companion, Prince across the
Rainbow Bridge .
I know he can be fussy and grumpy as
he can at times have a bit of an attitude
but please assign him to a place of honor,
for he has been a faithful servant to me
always and has done his best to please me.
Bless the hands that send him to you,
for they are doing so in love and compassion,
freeing him from pain and suffering.
Grant me the strength not to dwell on my loss,
but to help me remember the details of his life
with the love he has shown me and grant me
the courage to honor him by sharing those
precious memories with others.
Let him remember me as well and let him
know that I will always love him…and when
it's my time to pass over into your paradise,
please allow him to accompany those who
will bring me home.
Thank you, Lord, for the gift of his companionship
and for the great times we've had together….and
thank you, Lord for granting me the strength to
give him to you now….in Jesus name.
AMEN.
copyright by Sylvia.
Rest in peace my beautiful boy
Your loving Mum