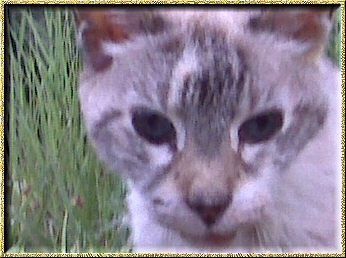 I presume Little Girl must have been around 10 when I found her frightened, alone and starving on the streets of Key West. A tiny gray puff of fur, she had taken refuge in the roots of a large tree in my friend Ricks yard on Bakers Lane. She was getting beat up by the younger and stronger cats in the area and obviously not getting much to eat. She weighed only six pounds and I knew she would not make it much longer on her own. Little Girl was clearly an abused feline, and so very scared.

Rick began feeding her and took her in, but his big male cat went after her. So, quite reluctantly I took her home. Another cat with no home, I thought at the time. Why me?

When I let her go at my home for the first time she hid under the house only venturing out for food at night. I did not want this, but if I did not help nobody else would. I would not see her for days. She would gulp her meal and then run in fear. Quite some time later I was able to coax her inside where she hid under my bed, literally for years. I hardly knew the poor cat.
Whenever I left home, my neighbors Frank and Sue would feed her and Dee would do the same. Little Girl had some wonderful friends.

Eventually, when I sold my home I dragged the scared little thing with me all the way to Arizona. She panicked in the truck. She hid as best as she could under my seat and watched on guard at night peering out the windows of my camper top. Finally, we were starting to become friends, but what a pain she was, and not at all like most of my cats, or most any cat for that matter.

I always liked cats that looked good, or were strong animals. Little Girl did not even have teeth and she was elderly and deaf. Her meow was course and funny sounding, but she was cute as could be and looked right into my eyes. She grew on me. She would curl into a little upside down ball when she slept. Whenever I woke her she would startle because of her deafness, still fearful.



Over the years, I came to love this little cat very much, and in due course she would sleep in the crook of my arm. I came to think of her as my success story. I never realized it then, but she became a motive for me to enjoy life, a fulfillment, a raison d'Ãtre for my existence. Oh yes.

Last winter while visiting Key West, Little Girl and I went to visit Rick. Although ten years had past she remembered Rick and walked over to where her mighty tree once stood, but was now a driveway. She looked worried that her safe tree was gone. Afterward, Rick held Little Girl and I took some pictures. One picture is seen here, with Rick holding Little Girl. It was a wonderful day for everyone and I cherish the memories.



This summer, Little Girl became ill. She wanted to be in my arms. She knew she was sick. I felt honored that she would place her trust in me. She never gave up right to the end, still staring into my eyes as only she could and oh my god it hurts. My home and heart are empty and I feel strangely cold inside. Although I am deeply heartbroken that is not why I am telling you her story...

Without a heavy sense of regret, I am writing to let you know that I wish I could have changed a few little things and just a few. There were times when she wanted me to pet her a little more, or hold her a little longer, but I often felt I needed to rush elsewhere and do some stupid human thing. And, at this stage of my life I have come to realize that most human things really are stupid in the big scheme of existence. Now, I can not even remember what was more important than her at the time.

I am writing to tell you that spending time with a cat or any needy animal that loves us is most likely more important than anything else we do. Think about it, you are your animals whole life! Our pets are sentient and conscious animals with feelings just like us. So the next time you feel the need to rush out the door, to do some stupid human thing, stop and think, and remember what is truly important in life and then take the time to sprinkle just a little more kindness. You will be forever glad you did.



Bye Bye Little Girl. I love you and miss you so very much. It hurts me so that you are gone. Life is not as good without you. Thanks for teaching me so much about life and real love my little friend.

Love be with you..., Jerry



Light a candle in Little Girl's memory, for a sick, abused, or special needs furbaby, or perhaps just someone who needs a prayer and a candle lit.