I have seen the morning
sun rise upon my window panes.
I have seen the glory of the
sun as sets at end of day.
I have seen rebirth in the
beginnings of each new day.
I have heard the sounds cast
in my mind of words unsaid.
On a clear day, I can see forever
in the skies above me.
I have seen the love as soft eyes
gazed gently into mine,
I have known love on four legs,
more so than ever I have two.
I have had the pleasure of time
that stands still in my mind.
I have shared the silver of the
teardrops as they fell,
I have heard the words of others
in much pain.
There have been things I know
left unsaid as time heals,
But I have sensed those
teardrops fall like rain.
It is known the pain of words
written for this heart that hurts,
And words fill the gap that time
has not yet felt the need to erase,
You too have words that you too
have yet to speak or write,
About the great hurt of the tears
that you wet upon your face.
So let we who care share your
pain with you my friends,
Let not ever the glory of the
rainbows shine be for naught.
One day more shall we rise to smell
the beauty of the rose.
And once more in the web of great
love shall we be caught.
Yes you have known the glory of
the sunrise as it burst upon the land,
And seen it slowly drift across the
meadow gently kissed with dew.
You have felt its warming rays spread
and warm your very soul,
And you have known the love of four
legs, just as you have two.
You know this life as it stands
is not without its grief,
So Live on this life that you
know you must fulfill,
Until that day that you are
called upon to go,
And you will see the sunlight s
hine again upon your sill.
©Don Dade – 02/04/2006

When I dream I see
you just around the corner
waiting for me. I see you
so clearly, that if I
reached my hand out I would
touch your warmth.
I hear you sigh and feel the
caress of your breath on
my cheek. I touch my face and picture
you just around the corner.
In the darkness of the night
when all the light is gone
and I fear will never see the
light of the sun, I hear your heart
beat. Then I see a silver glow.
Within that glow a path appears.
Showing me one day I will follow.
I see you always near.
Just around the corner,
where my heart dwells.
©BarTendersBluesWolf
Aka J.C. Stewart
2008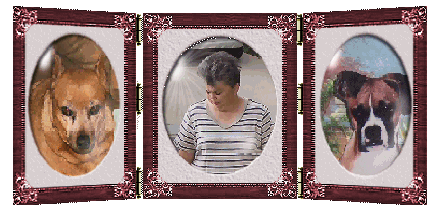 In the quiet corners of my life I feel you
Always hovering - always near
There, but not there, just out of my view
A comfortable companion

I've noticed you for a while and wondered
were you cause for fear or hope
I've wondered if my thoughts were heard
Or if you were aware of me at all

Are you my memories lingering to haunt me
with wishes I cannot make true
Are you Time standing there just to taunt me
Echoes of the past and the future

With the passage of time as I begin to heal
and memories become warm and sweet
I realize that you are my lost one's love I feel
Bidding me hope as they watch over me.

In the quiet corners of my life I feel you
Always hovering - always near
There, but not there, just out of my view
A comfortable companion
Loving, watching, caring.

© Candace


Ebbing tides of sorrow break,
Over those who will seek but ease.
The hearts and souls and minds that ache,
Waiting for the wind called peace.
The love that came from up above,
Was sent with them to us to teach.
Mission complete, took back his loves,
Now we wait for the wind of peace.
They brought His word to us to learn,
Now they fly on wings of iridescent hue,
A silverwolf was sent to me,
Who now flies with wings of blue.
So learn you well the word of love,
Even tho when gone you feel no ease.
When he takes them back above,
And leaves you searching
for the wind called peace.
Written by:
© LoboWolf aka Don Dade
10/02/2003