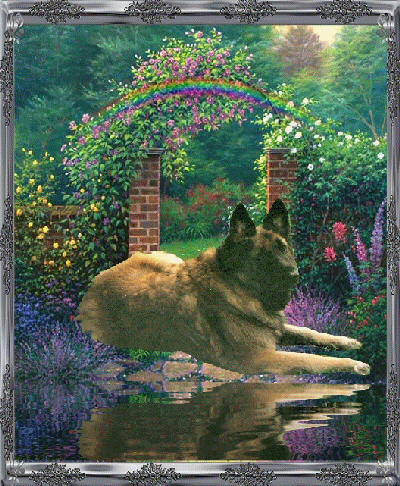 Sorcha
Sorcha and I were very special together.
She came to me when she was 3 and a
half years old. If I hadnt taken her she was going to be pts.
She belonged to a vet would you believe.
She had tried to re home her twice and it hadnt worked. She
was supposed to be uncontrollable and totally destructive.
My labrador Jack fell in
love with her immediately, and she with him. They adored each other. When he had to leave she took little Basil into her heart. She was my Indian Princess, my gentle giant
When she passed, she was a Reiki Master, as I am,
my vet was too. He suggested that
as she had Leukaemia it would help her.
Out of all of my animals hers was the
easiest passing of all. My vet, his wife and me,
sat with her for about half an
hour after, and although we were all crying,
my beautiful girl was so peaceful. She
still helps me now with healing, and she is the bridge
that brings all of my animals back to see me
Please dont think that I am totally mad,
she is special as you obviously felt it too.
Love, Peace and Light to you all
Diane
I Will Never Leave You
I will never leave you, Although my heart is old
We will always be together, Or so I have been told
I was sent to earth to love you, Be your guardian and your friend
However far the distance, That can never end
Through all the smiles and laughter, The crying and the pain
In your heart Ill always be, And there I shall remain
Im sorry that I hurt you more, By crying out in pain
But I always was a coward, When it came to pain
You know when I was little, I was hurt so many times
But I held my purpose in my heart, Cos I knew you would be mine
I went to sleep in your arms, And woke up in your Dads
He said he had been waiting, Cos he knew I was your lad
But now Im glad I came here, I feel so young again
I can run around and jump and bark, And now Im free from pain
Ive even got a football, you know how good I was
I play with it with all the dogs, But always beat them all
They used to say I was better, Than the entire England squad
But now Im even better, Now Im here with God
Im sorry that youre lonely, Im sorry that youre sad
Im sorry Im not with you, But Im still your own wee lad
Listen for me always, In the stillness of your heart
And know I will never leave you, We will never be apart
I live in you until the day, The master calls you home
And then in Peace and Light and Love, These green, green fields we ll roam.
Diane.

JUST INSIDE THE GATES OF HEAVEN
IS A BRIDGE BUILT FROM LOVE
CALLED RAINBOW BRIDGE
IT GLOWS WITH THE UNITY OF PEACE
IT SPANS A RIVER OF THE BLUEST BLUE
NO ONE IS ALONE THERE
THE ONES WHO WENT BEFORE YOU
WILL KNOW YOU ARE BEING LIFTED
ON THE WINDS OF PEACE
THEY WILL BE THERE TO GREET YOU
THEY WILL BE LEAD BY THE GREAT AND WISE SILVERWOLF
THE SILVERWOLF WILL KEEP MY HEART NEAR TO YOU
HE WILL HOLD YOU CLOSE TILL I CAN
WILL SHOW YOU FREEDOM FROM PAIN
YOU WILL FIND AT THE BRIDGE
LISTEN TO HIS GENTLE WISDOM
THE STAR WHO WAITS
WILL TELL THE ONE WHO CARES
THAT YOU ARE SAFE AND WITH HIM
I HEAR A GENTLE PURR BY MY EAR AT NIGHT
A HOWL IN THE WIND
SILKY FUR AGAINST MY SKIN
YOUR EYES LOOKING BACK AT ME FROM THE STARS
A WHISPERED I LOVE YOU
ALWAYS FELT
ALWAYS HEARD
ALWAYS SEEN WITH THE EYES OF MY HEART
TOGETHER FOREVER
SOMETHINGS MAY CHANGE
LOVE REMAINS EVER STRONG

ęBarTendersBluesWolf~November 28, 2005.