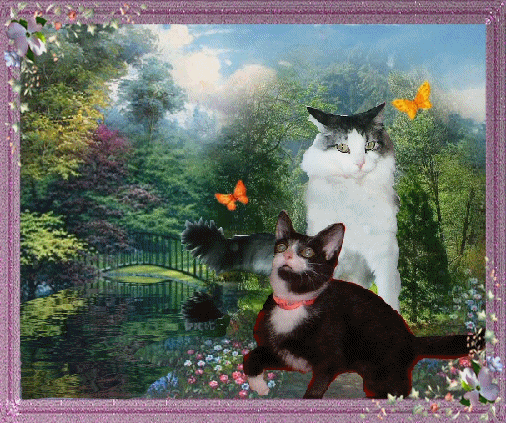 A girlfriend of mine from high school lives in Michigan...me still in Ohio. 12 yrs ago she was coming down to Columbus for Thanksgiving to visit a boyfriend and stopped at a gas station to use a pay phone. Something stirred in the snow and it was a kitten. She took it into the bathroom and washed it off finding a compound fracture of the left rear leg. Well Marian is an avid cat lover having 6. She brought the kitten with her on to Columbus taking him to her former vet. They did surgery and put a pin in his leg. She returned to Michigan. I knew none of this. A couple weeks went by and she called me,as I am known as an avid animal lover ,and asked if I would get him and nurse him back to health as she could not come down.



The nurses named him Destiny...Destined to live. I thought that was pretty good so kept it! I needed something to keep him in as he was not allowed to run.I was singing in the church Christmas performance and drove into the parking lot for a matinee performance and another car pulled right next to me at the same time. In the back seat was a rabbit hutch(I had just got Destiny that morning and he was in a big box at home. I asked the guy if he was using it and explained my situation and he said it's dirty. I said "I can fix that". So he gave ne the hutch. I have it to this day.So something Destiny could look out of was provided. So for a while I gave him antibiotics took his temp by way of the butt and took nom upstairs and held him on my chest and sang him Christmas songs to get him out of the crate.


Three months went by and Marian had come to Columbus twice and stopped to see him only as she left town again. Soooo, I finally called her and asked if he were hers or mine? I was getting attached and afraid I would lose him at any time. I asked her this on a Monday, she said she would let me know Friday. 1030pm Friday no call I am a wreck...brrrrring brrrring the phone rings and it is Marian! She goes on to say "well , we've been friends for 30 years and the cat will probably live to be 15 so he's yours. To this day I have no idea what that meant BUT HE WAS MINE! Hooray!



For the 1st 4-5 years Destiny would attack and almost try and rip your arm off. I figured it was an ingrained response he had from getting the leg injury sooo I would just flatten him to the floor with both habds and then slip him into the crate for about a half hout. He would settle down and all would be all right again. Did that for those 4-5 yrs and then he quit it. I couldn't imagine agressing on him as he couldn't help the tendency I am sure. Well he became very attached to me. Head butted me a lot especially in the face when I was lying down. He survived 2 stomach surgeries due to string tied around his tongue. I forbid anyone leaving out string or thread because he would get into it. Expensive surgeries but he is worth it. My vet let me come up and hand feed him everyday through recovery.Early on we found he had only one kidney....the one on the side where the leg was broken had atrophied and was hard and shrivelled inside and the vet took it out. Sooo, for 12 yrs he lived with one kidney. Some of that time I gave him sub q fluids.



He would run and beat me upstairs or dowm. He would sit on the stairs and stare at me while I watched tv . He loved to play ghost, I would put my habd under a sheet covering a chair and he would attack the ghost. He never meowed he trilled. A very musical little boy 10lbs 8 oz.Looked bigger with his fluffy hair.I would kiss him down his back and he loved me rubbing his tummy, he really trusted me.He would tell you and take you to where he liked to have his fur combed. Also he would take you to his food when he wanted fresh.Loved shasing and jumping up to catch a tope even in his 2nd to last week. Had NO idea I was about to lose him. I think I went into shock...tears flew for several days but I was numb most the time since. The first 3 days after losing him I thought my heart would explode or stretch I felt soo much in my heart.



When he died my vet kept him for 5 days and then I had the courage to go up there and they let me hold my cold boy wrapped in towels(one with turquoise on it, my favorite color) for 2 1/2 hours. I expressed to my vet that I didn't think I had any pictures of the 2 of us together and he said"do you want some now in this state I have a camera in my office", I paused a moment and said "Let's try it". Sooo I have several pictures with Destiny and I after he passed he looked sooo peaceful. They held on to him one more week, I went up and saw him(a bit frosty) one more time and the attendent Kathy said see...a little of his tongue is sticking out he is giving you a raspberry to let him go. Sooo, I said "OK go ahead and have him cremated now". They called me the next day and said he was ready to be picked up.



I have never been bonded and understood so much by anyone, human or animal. He truly loved me and I was his number one and I thought as long as I had Destiny I would never need another thing . He completed my life completely. I used to joke and say if he were a man I would marry him. Hence the name one_love....we definitely had one_love, special love.After he passed I looked up his name on wikipedia and the 1st definition was Destiny " a romance meant to be". That blew me away.



One day short of four weeks past his death I got Twinkles. At 1st I got physically ill the nite before I was to get her because I felt guilty and thought it was too soon, maybe disrespectful of Destiny to get her. But, someone on petloss said maybe Destiny sent her. That gave me the peace to go ahead and get her. As it turns out I see Twinkles as the star Destiny is looking through at mer through." Twinkle twinkle little star, how I wonder where you are, up above the world so high, like a diamond in the sky." After having her a few weeks I realized she has toughly 3 white fur diamonds on her , one at the chest and 2 on the belly.I think she was meant to be. She's Destiny's little helper.



Dancing on the clouds, chasing the stars
Riding the winds of love
Sending my heart in the warmth of the sun
Singing songs of joy in memeories
I hold forever near and dear
Sliding on the tails of stars
To whisper in your ear
That I am always yours
You are forever mine
Gentle purrs to a caring heart in the night
Silky touches of a whiskered smile
Hugs forever given in dreams we meet
See me dancing on the silver clouds
Shadows in the moon light
Love whispered in the twinkle of a star
Here I am
©BarTendersBluesWolf~~February 22, 2006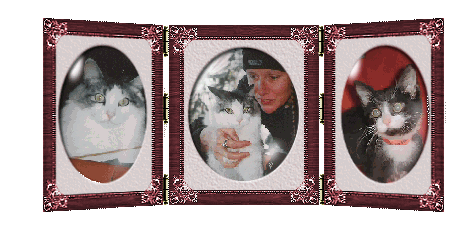 Ebbing tides of sorrow break,
Over those who will seek but ease.
The hearts and souls and minds that ache,
Waiting for the wind called peace.
The love that came from up above,
Was sent with them to us to teach.
Mission complete, took back his loves,
Now we wait for the wind of peace.
They brought His word to us to learn,
Now they fly on wings of iridescent hue,
A silverwolf was sent to me,
Who now flies with wings of blue.
So learn you well the word of love,
Even tho when gone you feel no ease.
When he takes them back above,
And leaves you searching for the wind called peace.
Written by:
© LoboWolf aka Don Dade
10/02/2003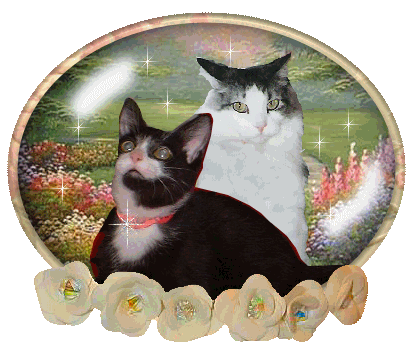 Our hearts are forever linked, we are part one of the other
We bound our souls together and a journey we began
We faced the world as one as we traveled through this life
We chose our trail and then began walking hand in hand

Now I continue the journey on the path we had chosen
And as I face our path alone and you travel on ahead
I know that you are also here to guide and guard my steps
To help me to keep true to the path where once you lead

And though now there is only a single set of footprints
I do not fear for I know that I still travel on with you
I feel you as you continue to lead and guide my steps
As you continue leading me from just beyond my view

(c) Candace