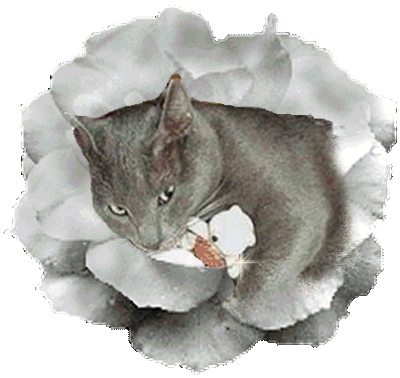 "MY CB KITTY"
CB sweetie, I miss you more than words can express,
My heart has been ripped from my chest.
When you came to me as a wee kitten,
I knew then that you would always
Have a special place in my heart.
The dog wanted to kill my baby,
But I managed to pry you from his jaws.
You cried a lot from that moment on,
Thus the name "Crybaby" you were given.
You quickly became my friend, my sweet baby,
My huge, gentle giant, and my companion.
Truly the most gentle and loving soul
I have ever known in my lifetime!
Even though the mean dog did you harm,
You dealt with the bad days so well.
You loved all the furbabies, yes even
The doggies who would allow you to love them.
You had to act like my big, tough boy,
When deep down you would not hurt a soul.
Bless you sweetie for the many, many furbaby
Kittens that you brought home to me from the woods.
Together we raised quite a few, always in love.
You taught them to be like you sweet baby,
Gentle, loving, and kind, with hearts of gold.
I cry tears for you my boy, because I am sad,
To be here on this earth without my baby is hard.
I miss your huge, loving green eyes.
I miss your slick, shiny, gray coat of fur.
I miss the way you would rub against my leg,
And look up at me wanting me to scratch your back.
I miss you cuddling up next to me,
We went through many a rough and good times together!
I miss the way you would roll over on your back,
And look up at me with those loving eyes,
Wanting me to rub your belly and play!
I miss you being by my side in what ever I did.
I miss watching you and your baby girl together,
Playing, eating, cuddling together, and yes even
Having your little fusses at times!
Your baby girl misses you terribly sweetie,
I thought for awhile that she would join you there.
She is doing better now, but still looks for you everywhere.
After thirteen years together, she is very lonely without you.
She wants to play with me, but I have to keep reminding
Her that she can't play as rough as she always did with you.
And yes, I even miss the way you cried all the time!
Never thought I would say that, but I do!
All in all, I just miss everything about YOU!!
I am so sorry that I couldn't do more for you CB,
I wish I could have kept you with me forever.
I'm sorry the vet. hurt you my baby,
I know he didn't intend to do so.
I treasure your "Best behaved kitty" ribbon that
You got from the vets. office,
And your hair that I got from the brush
That you so loved being brushed with.
You were truly one of a kind, a special
Soul that will never leave my heart.
My baby boy, I love you.
I know you are taking great care of all those
Furbabies there in Heaven. It brings a smile to my face,
Thinking of you running around with them all
Running after you:). Have a good time sweetie,
Be a good boy. I LOVE YOU CB.

Your Mommy, Cindy


CB
In my mindís eye when I think of my sweet boy I see him with little orphans/strays that he brought to me out of the woods, to help him raise. He loved them all, and brought me more than I can count. He also loved the doggies, even though he was rescued from the jaws of a GS himself as a wee kitten. Or with his sweet girl "JR" such as when they played together in a box, they were raised together and had to do everything together.

What can I say about my sweet, gentle, giant? He was one of a kind, loved just living life, being near me in what ever I was doing, and loved helping me raise the babies. He was with me for 13 years, and helped me to make it through many a rough time, always by my side. I most likely would not be here today if not for my baby boy. He was never a "Daddy" himself, but sure taught all his"orphan babies" to be like him. Sweet, loving, and gentle. I will never forget him, and all that he gave to me and so many furbabies in his life.

I also will never forget the tragic day that I had to lift him in my arms and carry him to the vet, nearly drowning him in my tears. All the while he just looked up at me with those huge, loving eyes, making my heart truly melt inside. I miss him soooo very much and still look and listen for him each day, he was always by my side.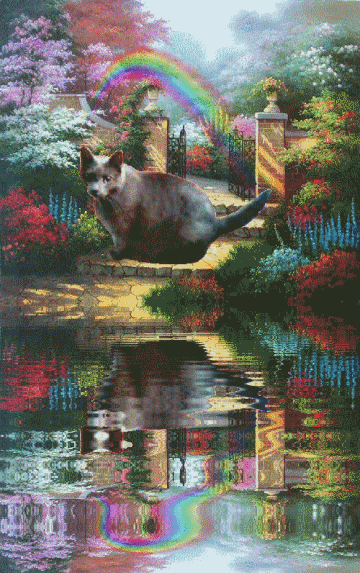 A Wind Called Peace
Ebbing tides of sorrow break,
Over those who will seek but ease.
The hearts and souls and minds that ache,
Waiting for the wind called peace.
The love that came from up above,
Was sent with them to us to teach.
Mission complete, took back his loves,
Now we wait for the wind of peace.
They brought His word to us to learn,
Now they fly on wings of iridescent hue,
A silverwolf was sent to me,
Who now flies with wings of blue.
So learn you well the word of love,
Even tho when gone you feel no ease.
When he takes them back above,
And leaves you searching for the
wind called peace.
LoboWolf aka Don Dade