When You Come Back To Me
By Garth Brooks

AWAKENING AT THE BRIDGE

Where am I, how did I get here? Muffin asks as he gazes around and watches the happiness and joy around him. I wasn't here before I was with my Mum. She was crying and calling my name. Muffin hears a gentle warm voice come from behind him. He turns to look into the caring eyes of a regal Silver Wolf He is amazed that he is not afraid of this wolf, where he always was before. Hello Muffin Iam Pooky and this is my sister ShiShi we have come to welcome you to rainbow Bridge. Muffin looks into the eyes of a blue eyed angel sitting by Pooky's side. Shishi holds out her paw in welcome. Your Mother will meet our Daddy soon and he will be there for her, just like we are for you now.

We have been together for so long, who will cuddle with me and hold me close? Pooky lowered his head so he could look into Muffin's face so he could see his understanding, this is a seperation of bodies not of hearts or souls you are always together. There are many ways to send your hugs come with me and I will show you Look deeply into the waters of the river that flows under rainbow Bridge it is a mirror to the hearts of our families, in it You can reach out to them and touch their hearts and let them know you are safe. You can look into their eyes.

Come look into the stars, each one of us has a star that is our's. See the one that is calling to you that is your star. Each night my Daddy speaks to my star and I hear him and send back my love on the glowing light of the star. I am the star who waits and I greet all who come here as my Daddy reaches out to your loved ones. I know your Mother will reach back to him. See Muffin they are meeting now and with that meeting she will gain many sisters will be heart sisters. A bond of deep understanding can happen in a heart beat Muffin, Shishi whispers in Muffin's ear Even from miles away they are near, a heart family. Never fear that she is alone, one is never alone when there is love. Look around you and see the joy and happiness, but each one is waiting for that moment. When they will get that feeling that they always got when their loved one was near. The joining again of two hearts becoming one. When they will look into the distance and see them coming towards them. Look now a reunion is happening now. See how their eyes light up and glow with a happiness of knowing they will never part. Rebirth in reunion is the greatest moment between two whose hearts are whole again. Feel it in the air, peace of heart on the winds of peace. You too will know this feeling when is time.

Till that day know that you are not alone, my sister and I are here for you. Your Mum and our Daddy are never alone they have hearts near them that care and understand. We are family forever and always. Here the lamb does lay down with the wolf. Your Mum is a wolf, made a wolf by my Daddy. Now come with us and we will introduce you to the loved ones of your new family. Remember your mother will always send you hugs on the colours of the rainbow. And we will send them kisses in the warmth of the sun.

Our journey was written in the stars For every end there is a beginning

On January 26, 2005, Muffin felt a loved one closer and looked up to see the eyes of his Uncle watching him with love. As his Uncle gathers him into his arms, Muffin whispers welcome. Together we will wait till is time and our family will be together again. Pooky and Shishi join them to wait What seems an eturnity to us is only a heart beat to those at the bridge. Love always and forever and one day more

BarTendersBluesWolf~February 15, 2006.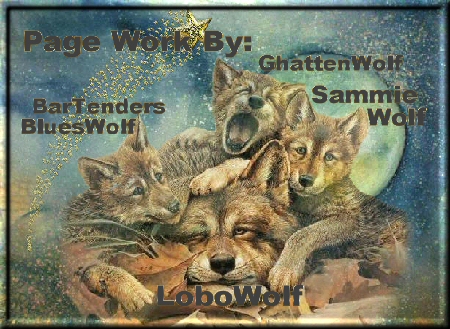 This pagework is the sole ownership of petsupports.com
and cannot be used without permission of said owner.
If we have used something owned by someone else, please inform and
we will give due credit or remove.